Cain Sczepanski Award of Excellence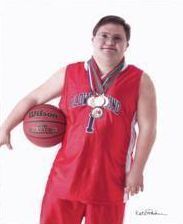 Download this form to nominate a Special Education Educator Today!
The Cain Sczepanski Foundation in Special Education was created by Bill, Carolyn and Cara Sczepanski in memorial to their son and brother, Cain. Cain lived for 24 years with Down syndrome and heart defects. He died on March 7, 2011, of a heart attack. Cain spent 18 years under the guidance of dedicated LISD instructors and paraprofessionals. The $1,000 Award of Excellence was created by the Cain Sczepanski Foundation in Special Education to annually recognize special education educators who demonstrate classroom excellence. 
The application opens February 2023 and Nomination forms must be received by 4:30 p.m. on March 6, 2022, at the LEF office located at 1565 C West Main Street, Lewisville, TX 75067 or emailed to robinsonsl@lisd.net. Any questions should be addressed to LEF Programs Coordinator Sherah Robinson by email or phone at 469-948-2020.
---
Ted Barnes Award of Excellence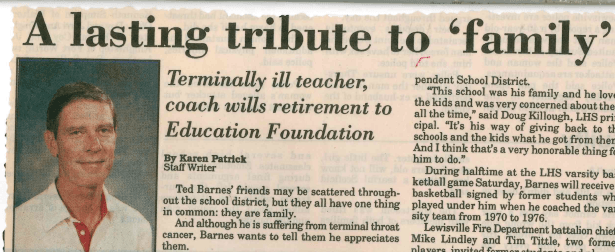 The Ted Barnes LHS Award of Excellence was established by Ted Barnes, who taught at Lewisville High School for 25 years.
The $500 Honorarium is awarded to a Lewisville High School teacher or administrator who meets the following criteria:
is currently a teacher or administrator at LHS, preferably who has taught/worked in the district, preferably at LHS, for at least 10 years.
Has demonstrated outstanding educational service to LHS.
Provides 3 references (one each from a student, a department member or fellow administrator and one of your choice) to LEF.
Completes and submits application by the 1st Monday in April to LEF.
The Ted Barnes LHS Award of Excellence Applications opens February 15, 2023 for all LHS Main Campus, Harmon, and Killough educators to apply. Applications must be submitted by 4:30 pm April 3, 2023.
Download the Ted Barnes LHS Award of Excellence Application here.