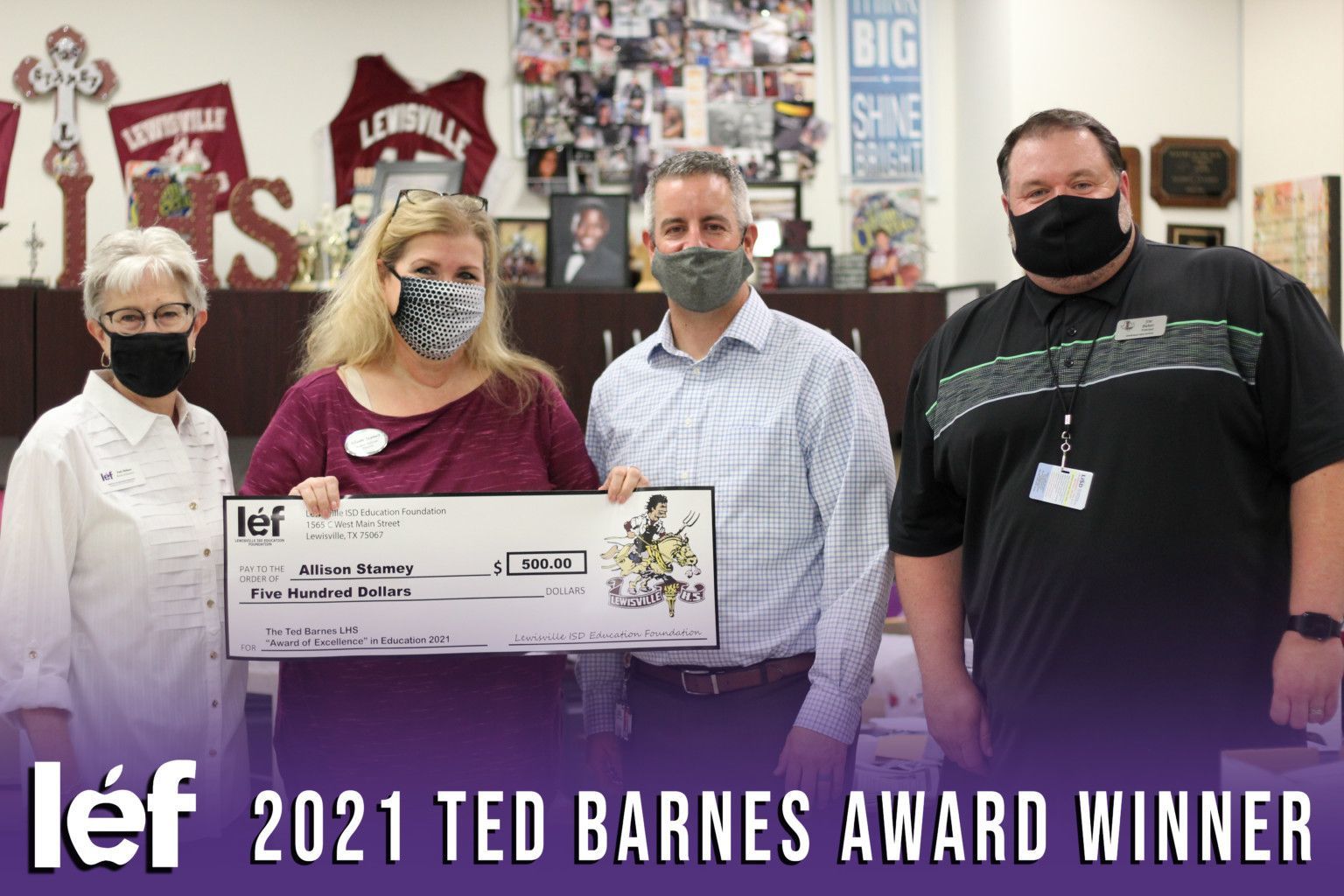 The Lewisville ISD Education Foundation (LEF) is pleased to announce Lewisville High School's Allison Stamey as the recipient of the 2021 Ted Barnes LHS Award of Excellence in Education.
This award was established by Ted Barnes, who taught at Lewisville High School for 25 years. It is awarded to an outstanding educator for their service to LHS.
"The school was his family," former LEF Board Member and then-LHS Principal Doug Killough told the Lewisville News in 1992. "He loved the kids and was very concerned about them all the time. This was his way of giving back, and I think it's a very honorable thing for him to do."
The 2021 winner, Allison Stamey, is the Student Activities Director at Lewisville High School and has been working in education for 28 years. She also handles community outreach for LHS and is an advisor to the Student Council and senior class. Over the years, she has affected the lives of many students, parents, and fellow co-workers who consider her the very heart and soul of Lewisville High School.
Even years after graduation, former Farmer and Class of 2015 alumna, Araceli Castillo, still remembers Mrs. Stamey fondly and credits her as the reason she has been able to communicate better with people and became involved in community service.
"I was really fortunate to have a lot of mentors and a lot of great educators that really looked out for me. She helped me a lot through junior and senior year by teaching me how to be a better leader and get out of my shell and stop being so shy," says Castillo.
LHS Principal, Mr. Jim Baker is honored to work alongside Stamey and is happy to see her win this award.`
"Allison Stamey is the heartbeat of Lewisville High School.  She is one of the most effective and innovative educators I have ever had the pleasure of supervising.  I consider Mrs. Stamey to be exceptional for several reasons.  First and foremost, is her ability to connect Lewisville High School students to the community. Second, the Lewisville High School Student Council is the largest and most active council in LISD due to the continued effort and hard work of Allison Stamey. Third, students involved in the Lewisville High School student council complete more service hours than most student councils in the state.
As you can see, Allison Stamey is a true leader. Her commitment to growth of the students at Lewisville High School is second-to-none and her impact on their lives is immeasurable. Mrs. Stamey is the greatest example of the servant leadership offered here. It is a blessing to work beside her and witness the life-long lessons learned and positive growth in our student body."