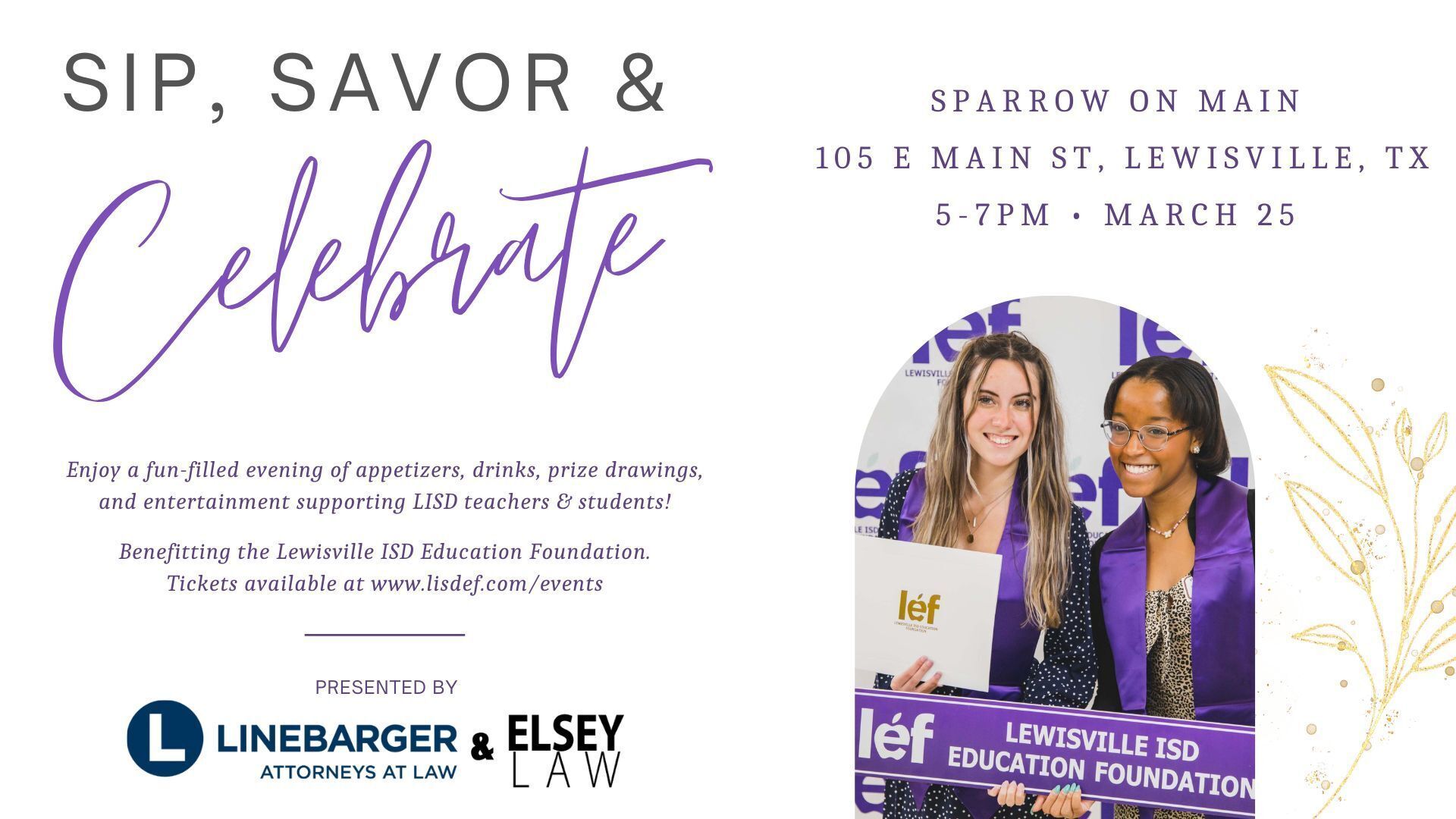 You're invited to join LEF and friends for a fun-filled evening of appetizers, drinks, prize drawings, and entertainment supporting LISD teachers & students!
Hosted at the beautiful Sparrow on Main venue in Old Town Lewisville, learn more about LEF's impact while chatting with various teachers and grant recipients from all over LISD, savoring hand-held appetizers and cocktails catered by Shoal Creek Tavern, and perusing our prize baskets filled with various luxury goods and premier items.
Presented by Linebarger, Goggan, Blair, & Sampson
Benefitting the Lewisville ISD Education Foundation
$50 per ticket. Cost of food and beverages included in ticket.
Frequently Asked Questions
Is there a dress code?
We recommend an elevated casual look! This event is the perfect setting to stop by, have some drinks and appetizers, talk to some really amazing teachers, see some incredible grant ideas come to life, maybe win an awesome gift basket and then head out for a fun night out on the town.
Is there a program?
There is no program for this event, this is a come-and-go, stay until 7 PM only if you'd like to. We will announce prize basket winners on social media as well as in-person and will schedule pickup or delivery if you have already left the event. We understand weekends get busy, feel free to stop by whenever you can!
Where do I park?
There are plenty of open spots at City Hall, just one block down from Sparrow on Main.
Can I participate virtually?
Virtual tickets for the prize drawings are available online to purchase! We will close online sales at 6:45 PM on Saturday, March 25th to ensure everyone's ticket makes it to the baskets in time. Then we'll pull the winners at the end of the night and reach out via email if you won a basket! Follow the ticket link above to view raffle items!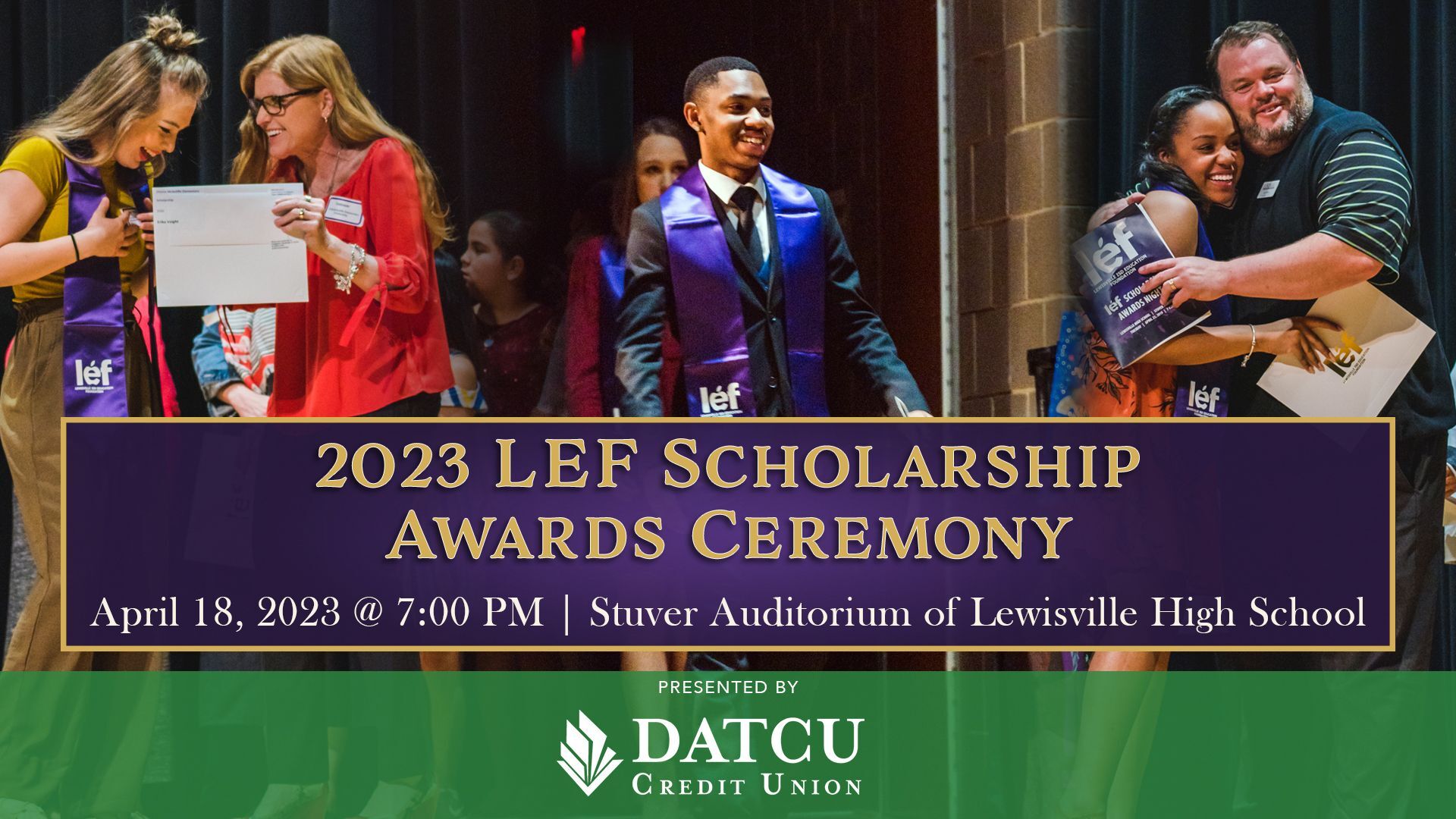 Join LEF and Lewisville ISD seniors for one of LEF's most rewarding events of the year: the Scholarship Awards Ceremony.
On Tuesday, April 18 at 7 p.m. at Stuver Auditorium on the campus of Lewisville High School, LISD seniors and teachers will receive their scholarship and fellowship awards made possible by the LISD community through LEF.
Scholarship endowers will meet those who receive their scholarships, pictures are taken, and students get ready to pursue higher education after Lewisville ISD.
Special thanks to DATCU for sponsoring this event and the recipient yard signs. DATCU has supported LEF for more than 24 years and is a well-known partner in the community.
Don't miss out on the best opportunity to connect with your community. Mark your calendar now for the 2023 LEF Scholarship Awards Ceremony!
Frequently Asked Questions
Is the event a dinner?
The scholarship ceremony is not a dinner event. Students will be called to the stage in sections to receive their scholarship from the donor. Please plan to stay for cookies and punch after the ceremony. Donors and students may take pictures and mingle during this time.
How do I dress?
Please plan attire to a "dressy casual" dress code. Dresses, skirts, slacks, button-downs, and suits are all appropriate attire. You can follow this link to see photos from last year's event for outfit inspiration.
I am a donor with a Memorial Scholarship. What can I bring for the memorial table?
The memorial table is a space for you to setup any memorabilia you'd like to honor your loved one. Framed photos, jerseys, flowers, newspaper clippings are all beautiful momentos to display. Please keep size and fragility in mind when setting up items, as this is a crowded event space.