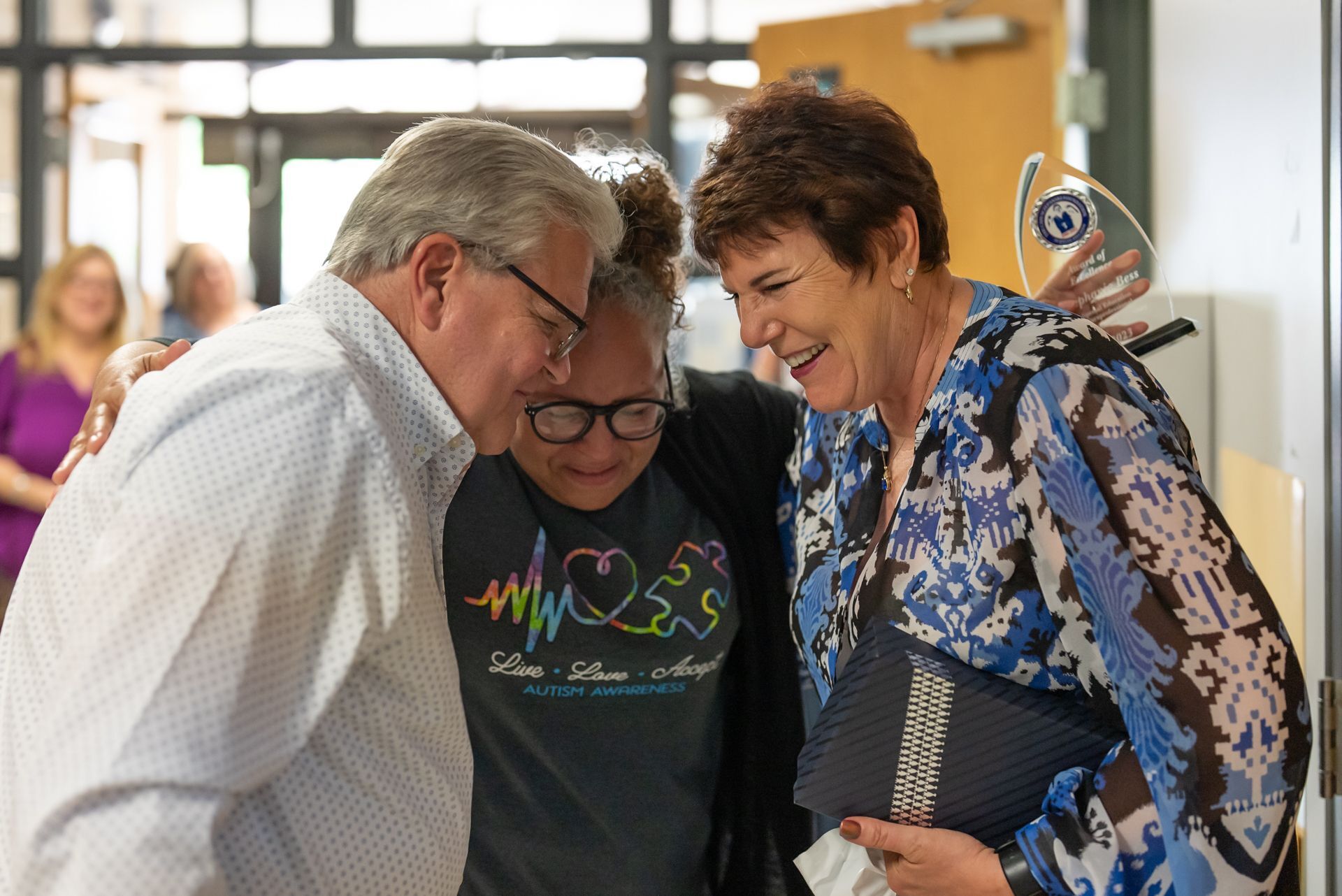 See all the photos on our Facebook album!
The Lewisville ISD Education Foundation (LEF) presented four LISD educators with the 2023 Cain Sczepanski Award of Excellence. The Cain Sczepanski Foundation in Special Education was created by Bill, Carolyn and Cara Sczepanski in memorial to their son and brother, Cain. Cain lived for 24 years with Down syndrome and heart defects and spent 18 years under the guidance of dedicated LISD instructors and paraprofessionals. The award is given to nominated special education educators who demonstrate classroom excellence. This was the first time in that award's history that each recipient was also given a two thousand dollar cash award.
Congratulations to the 2023 Winners!
JULIANA WOOTTEN, Marcus High School
SHANNON COFFMAN, Mill Street Elementary
HEATHER BUTLER, Wellington Elementary
STEPHANIE BESS, Flower Mound Elementary
JULIANA WOOTTEN, Marcus High School
Juliana Wootten began her teaching journey as a PE teacher and coach. When an opportunity came up for a coaching position linked to a Special Education teaching job, she jumped at the chance, quickly diving in to earn her SE certification. After having her first child, Juliana decided to focus more on special education rather than coaching in order to spend more time at home with her family. At a previous position at Highland Park High school, she served as the Head of Delegation for Highland Park Special Olympics, sponsored the Special Olympics club, was cheer sponsor for an inclusion cheer squad and taught a communications course for students with Autism and Intellectual Disabilities.
"I felt that I was finally doing what I was created to do, and in return was learning just as much from my students as I was teaching them- compassion, strength, dignity to name a few," says Juliana.
In her current position at Marcus High School, Juliana serves as the ALS teacher, responsible for teaching math, science, and two vocational electives, as well as integrating social, vocational, and functional skills into her lessons. One such way she has integrated important life skills into her student's lessons is with the Marcus Candle Company (Co.), which offers handmade parasoy blend candles that are measured, mixed, hand poured, and packaged with love by students in the classroom.
"In her time at Marcus, she has innovated and invigorated her department with her ideas, her drive, and her passion for her students. She has piloted several campus programs for her student's continued growth and development, like the Marcus High School Candle Company, and has used opportunities such as this to foster several community partnerships with our students where they are experiencing many more outside of school opportunities, as well as having a fun new program here on campus to participate in," says Marcus High School Associate Principal, Jason Mullin.
SHANNON COFFMAN, Mill Street Elementary
Shannon Coffman currently teaches a self-contained Communications class at Mill Street Elementary. Taking every opportunity to volunteer in the special education classroom when she was a young student herself, she became very passionate about inclusion and chose to teach Special Education as a result. As a former 504 student herself who struggled with ADHS, she often uses her own experiences to help relate to her students and build strong connections.
"My philosophy for instruction for students with disabilities is and will always be equity over equality. Giving students what they need to be successful is not going to look the same for every student and that's okay," says Shannon. "Our students learn best when we meet them where they are at and give them the tools and accommodations they need rather than giving the same to everyone."
Shannon's fellow educators at Mill Street love interacting with Shannon and her students. On special holidays, Shannon prepares her students to operate a special treat cart to visit and interact with the staff, offering treats. It is always a joyful event to look forward to.
In a separate more serious occasion, Shannon's leadership, not just as an educator but as a caretaker
"We are very grateful to have Ms. Coffman here at Mill Street," says one of her student's parents. "Our son has improved in his education and behavior. He's overcome many obstacles all thanks to her patience and teaching skills."
HEATHER BUTLER, Wellington Elementary
When Heather Butler was in second grade, her teacher noticed her struggling to read which led to the discovery of an eye movement disorder. Her teacher helped her flourish by working with her diligently and inspired Heather to one-day become the type of teacher that noticed someone struggling and could help them overcome it. Her passion for Special Education was ignited in high school when she volunteered as a peer partner for her school's special education students.
Heather now serves as an SDI teacher at Wellington Elementary School and applies her philosophy of embracing each student's unique differences and strengths to develop an archivable plan for academic and social success and celebrate every achievement, both great and small.
"As a parent, I feel that Mrs. Butler is my partner on this educational journey," says a parent at Wellington Elementary. "She communicates with me regularly and takes the time to share successes, as well as concerns. This is the first year that I haven't had to stress and worry about my child's special education needs. I am confident that each and every one of her needs is being met and that gives me more comfort than I can voice. Mrs. Butler had made a difficult journey exponentially easier and I am forever grateful to her."
Her admin and peers find Heather to be a shining example of greatness and celebrate her heart for children and determination to help build every child's confidence.
STEPHANIE BESS, Flower Mound Elementary
Stephanie Bess chose to be a communication paraprofessional at Flower Mound Elementary after volunteering at her child's school and fell in love with helping the students. Through her sister and brother in law's foster experiences with children of various emotional and mental challenges, Stephanie became determined to serve those she saw as often overlooked and underestimated. Since working in special education, she's discovered the perfect fit for her self-described boisterous and flamboyant personality which helps in coaxing the students to communicate and express themselves.
"My philosophy for instruction is to serve by extending understanding mixed with love and grace, knowing the students need someone to stand beside them until they learn to stand and speak for themselves," says Stephanie.
Having worked in the communications classroom now for 5 years, Stephanie knows the program well and is always willing to do whatever it takes to help the students learn and grow. The admins, parents, and communications teachers she works with call her a master of shaping behavior, an integral part of the classroom, an energetic and positive personality, and the sunshine of comm paras.
"In the time that I have known her, there has yet to be a day that Ms. Bess has arrived at school without a smile on her face and the excitement to support the students and staff she works with every day. No matter the need she is ready to lend a helping hand," says Flower Mound Elementary Assistant Principal, Lisa Carpenter.