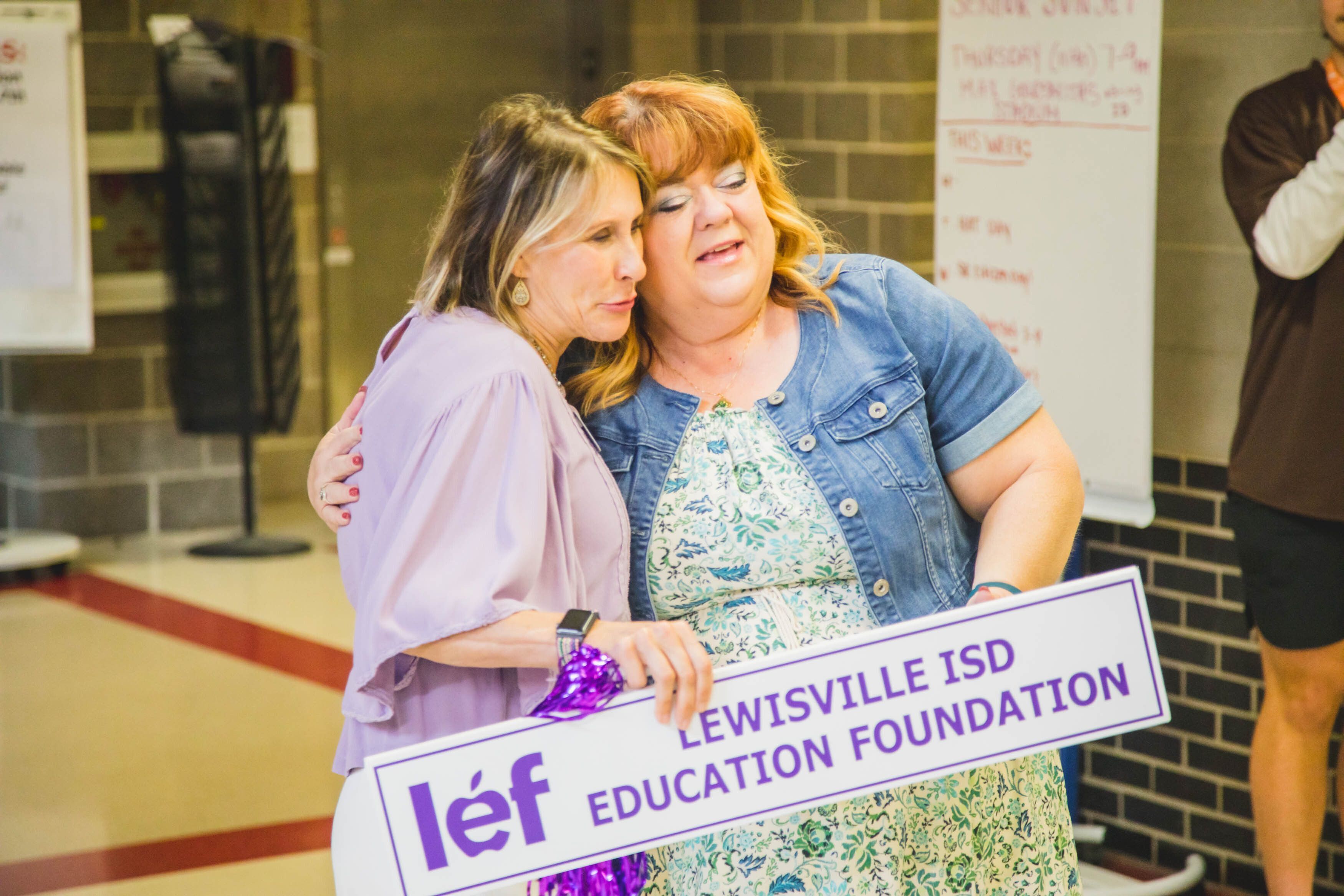 Established in memory of Ted Barnes, a former teacher and coach for more than 25 years at Lewisville High School, the Ted Barnes LHS Award of Excellence is given to a LHS teacher demonstrating outstanding educational service, preferably for at least 10 years. The Lewisville ISD Education Foundation (LEF) has named Bernette Lindamood as the 2023 recipient.
Bernette Lindamood is an alumnus of Lewisville High School, graduating from the class of 1986 and returning as a teacher in 1998. She taught at Lewisville High School for ten years before making the move with her husband and family to Alaska. Several years later, her family returned to Texas and Mrs. Lindamood began teaching Teen Leadership at DeLay Middle School from 2014 to 2020. She is currently serving as the Student Leadership Curriculum teacher at Lewisville High School, where she teaches her students leadership skills and techniques but also serves in multiple service roles outside of the classroom such as Junior Class Advisor, Alumni Coordinator, tutoring, Assistance Student Council Advisor, and has served on the LISD Calendar Committee and LISD Budget Committee in the past.
"When I first started teaching my principal, Royce Cooper, had plaques made to put up all over the halls of Lewisville High School that said 'We teach students first and content second.' This statement has always resonated with me and I believe it is the cornerstone to education," says Mrs. Lindamood. "To be an effective teacher, I believe that building relationships with students is the key to the students success in your classroom and your success as an educator. When students believe that they are more than a 'seat', that they are valued, cared for, missed when they are gone, they will be more receptive to the content you are teaching."
Her students and peers possess a great deal of respect for Mrs. Lindamood, who witness not only how much effort she puts into curriculum and lessons, but how much her example and teachings truly affect her students and how they approach the world around them.
"Those few experiences administered by Mrs. Lindamood helped me take that leap to take on student leadership at my middle school," says LISD student Samariya Boru-Kelley, who was Bernette's student at DeLay Middle School and Lewisville High School. "Once I changed my leadership path and focused on dance. I still was enlightened by Mrs. Lindamood's leadership curriculum. As a dance officer, I utilize her teachings to ensure that I am leading my team correctly. With servant leadership, effective communication, and acts of kindness, I now serve as the 1st Lieutenant of my drill team."
The 2023 Ted Barnes Award includes a $1,000 cash prize for the recipient to use however she deems fit.