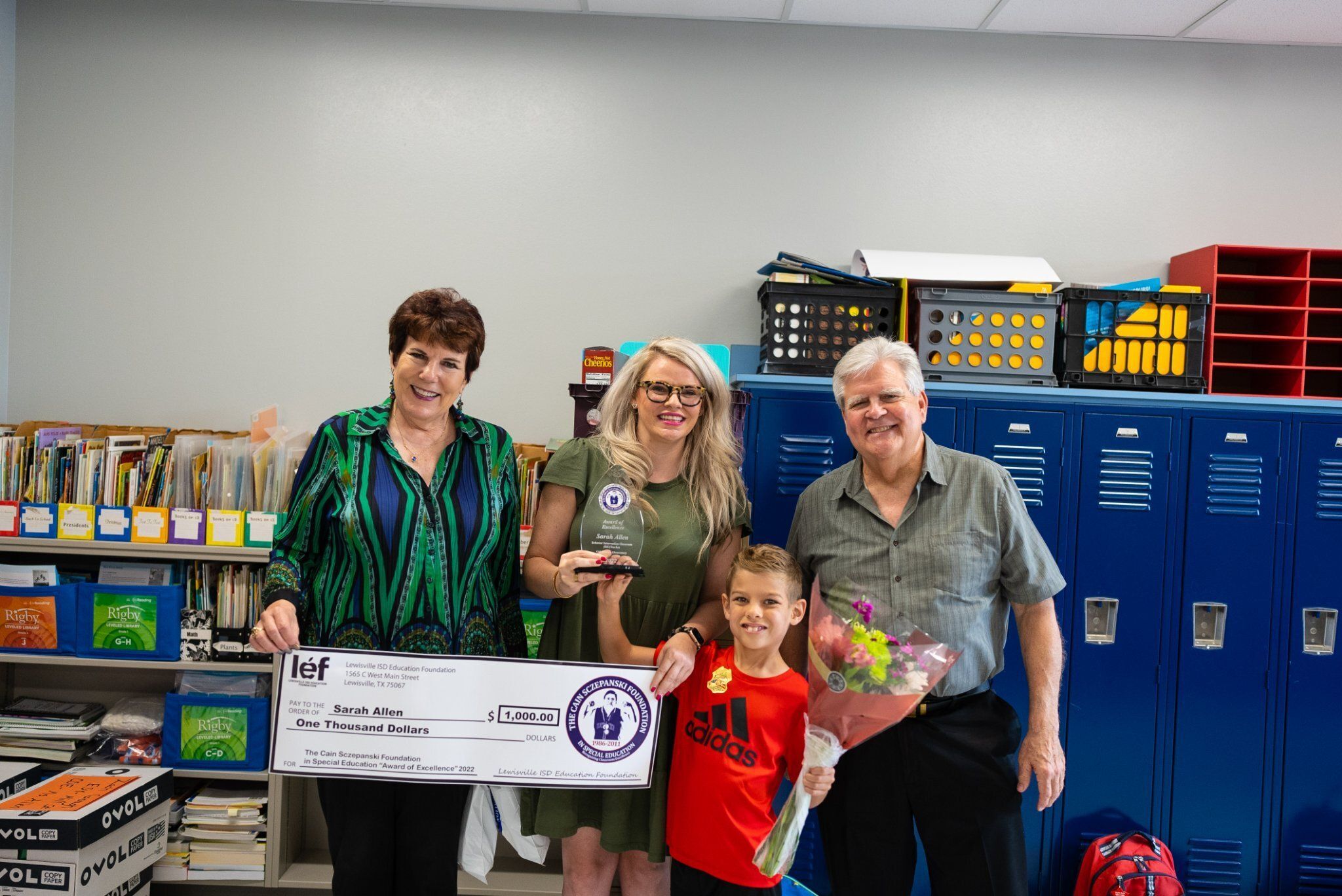 The Lewisville ISD Education Foundation (LEF) presented six LISD educators with the 2022 Cain Sczepanski Award of Excellence.
The Cain Sczepanski Foundation in Special Education was created by Bill, Carolyn and Cara Sczepanski in memorial to their son and brother, Cain. Cain lived for 24 years with Down syndrome and heart defects and spent 18 years under the guidance of dedicated LISD instructors and paraprofessionals. The award is given to nominated special education educators who demonstrate classroom excellence.
Congratulations to the 2022 Winners!
ASHLEY ACOSTA, Garden Ridge Elementary
CASEY KIRK, Hebron High School
CASSIDY BOYER, Special Education Department
KATHRYN DAVIS, Old Settlers Elementary
RAUL PLATAS, Student Success Center
SARAH ALLEN, Old Settlers Elementary
ASHLEY ACOSTA, Garden Ridge Elementary
Ashley Acosta has had a special place in her heart for the special education classroom since she was an elementary student. She volunteered for as many opportunities as possible to interact, build friendships, and help people with disabilities. The choice to become a special education teacher was obvious.
"Assisting my students in expressing themselves, and helping all students embrace the differences of themselves and others will lead to a more inclusive future for everyone," says Acosta. "A place where we embrace uniqueness and individuality."
Currently a teacher in the Communications program, Acosta has spent the last 2 and half years not only connecting with her students or supporting the development of their academic and communication skills but has also learned and implemented new methods for individualized learning plans.
"She has created a true classroom community in her room, which allows the students to feel comfortable taking chances and stepping out of their comfort zone," says her campus Principal. "I appreciate her initiative and flexibility in her classroom, which allows her to embrace the many changes that can occur in a special education setting."
CASEY KIRK, Hebron High School
Casey Kirk and her twin sister Taylor were born extremely premature resulting in her sister being born with Cerebral Palsy. Her passion for teaching started immediately through interacting with her twin sister, helping her read and write as she was. Throughout her school years, she volunteered with various organizations working with people with special needs.
"As I matured, I realized this desire to teach stemmed from an internal longing to advocate for my sister," says Kirk. "I have always wanted her to live a life with as much normalcy as possible.
Unsure of where to steer her education and career path, Kirk took a class called Introduction to Special Populations which sparked a realized in Kirk that the best way to advocate for people with special needs was to become their teacher.
Kirk has now spent a year teaching as a Functional Life Skills teacher at Hebron High and has quickly made a difference. She has partnered with the Orchestra and Band teachers to give her students more inclusive opportunities and believes in pushing the envelope to encourage growth.
"Even though this is her first year with my son, I have been at ease knowing her and her staff are teaching and taking care of him," says one parent whom Kirk works with. "Her infectious smile and greeting anytime I see her, lets me know P is in good hands."
CASSIDY BOYER, Special Education Department
Cassidy Boyer didn't choose teaching in Special Education as much as Special Education chose her. She spent over 7 years working in an entirely different industry but was often told she would make a wonderful teacher. A school for the blind was hiring and she began her journey working with students who are visually impaired.
Boyer has been with LISD now for 4 years working with students all over the district with visual impairments. She teaches all aspects of the Expanded Core Curriculum which includes areas of assistive technology and braille instruction. Always the first to ask, "what can I do to help", her solution-focused mindset makes her invaluable to the department, especially with the on-going hurdles of the pandemic.
"Being an itinerant teacher for a low incidence population is an interesting area of education to be in. You have to be several different kinds of a teacher for just one child for a specific amount of time. You have to be the MacGyver of teachers, have a rare skill set and most of all be flexible," says one of her co-workers. "Which leads me to why I am nominating Cassidy Boyer."
KATHRYN DAVIS, Old Settlers Elementary
Growing up, Kathryn Davis would watch her mother work with adults that couldn't talk, walk, eat, or use the restroom. She was a superhero and it seemed that she could help no matter the circumstances. One day, on a visit to her mom's workplace, she sat next to a woman who did not speak or seem to like anyone. After showing kindness and friendship, she connected with the woman, making her realize how important creating relationships really is.
"The choice of special education was never a different path I had to alter my current vision for, it was always the path I was on after years of walking with my mother," says Davis. "The joy and passion I have for my students and their abilities, and even their struggles, is beyond a choice. Special Education is my light, my life, and my everything, not just a choice."
Davis has worked in the Behavior Intervention Classroom for the past three years now. The BIC classroom has always been known to be a difficult class to work in as teachers face tough situations and shoulder much legal responsibility. Davis requested this placement specifically because of her passion to show those who may not be accepted often that they will always be accepted and supported by her.
"Kathryn Davis was the best teacher my son has ever had. Her patience and perseverance to gain his trust is unmatched. She is such a bright light in a difficult world and faces challenges head on," says one parent. "My family is so blessed to have her in our lives! She has a courageous heart and fun-loving spirit that is crucial when working with such a variety of students.
RAUL PLATAS, Student Success Center
Raul Platas' journey with Special Education began high junior year of high school when he joined the Circle of Friends. Learning about the special needs population and observing the success and demeanors of Sped teachers spurred him to become a teacher himself. After college, Platas worked at the Denton State Supported Living Center in the Habilitation Therapy department for 9 years. There, he developed a unique and relevant insight into what challenges special needs students may face post-high school. This insight has molded his philosophy for teaching and is a driving force in his work.
"My philosophy is to find purpose for each one of my students. In creating a purpose and developing their skills, students are able to attain confidence and deliver themselves from insecurities," says Platas. "Special education students need purpose the same way any other student does. Finding that purpose can be challenging at times however the key is to demonstrate to the student you believe in them so that they may believe in themselves."
The students that are a part of the TEAMS program at the Student Success Center are placed there due to extreme behaviors that impeded their classroom learning on their home campus. Platas works hard on finding what each individual student's gift is so that he may create an educational plan specific to their needs. This year, his students are running a small business creating t-shirts and selling dog treats which has been a successful venture in teaching students' vocational skills and confidence. Students have grown and learned so much that they are reintegrating back to their home campuses.
"Mr. Platas worked with [my grandson] for over a year. Mr. Platas was patient and never gave up on my grandson. He always communicated with me as to my grandson's progress or setbacks," said one student's guardian. Her grandson, Mr. Platas' student, was having trouble with self-injurious behavior after a recent death in the family. "He allowed me to share my story with him and was always attentive to my wishes for Drew. I known that his disciplined and professional efforts led to the reduction of my grandson's self-injurious behavior. There are no words to say what an amazing teacher he is. My family can't thank him enough."
SARAH ALLEN, Old Settlers Elementary
Sarah Allen always wanted to be a teacher, someone who leaves their mark on the world, but unlike many other Special Education teachers who always knew they wanted to work with special needs student, Allen started out as a general ed teacher where she spent several years. She learned that her passion lay with helping those students who had a difficult time expressing themselves in the Behavior Intervention Classroom.
"The challenges of a behavior classroom are many and what each day holds is as unpredictable as the Texas weather," says the campus Principal. "Never does a student's behavior affect her relationship or feelings for them. She treats everyday as a fresh start, and she conveys and models this for her students by striving to be and do better every day."
Allen's love and care for her students never waivers and her approach of developing true and lasting relationships with the students has since become the classroom philosophy for all staff. She takes the time to learn a students likes, dislikes, home life, dreams, and goals. This establishes not only an honest bond but also allows her to find motivating incentives for her students and can be factored into her lesson plans to increase engagement.
"When our students understand that we truly care, love, and cherish them, hey work harder, dream bigger and achieve more," says Allen.