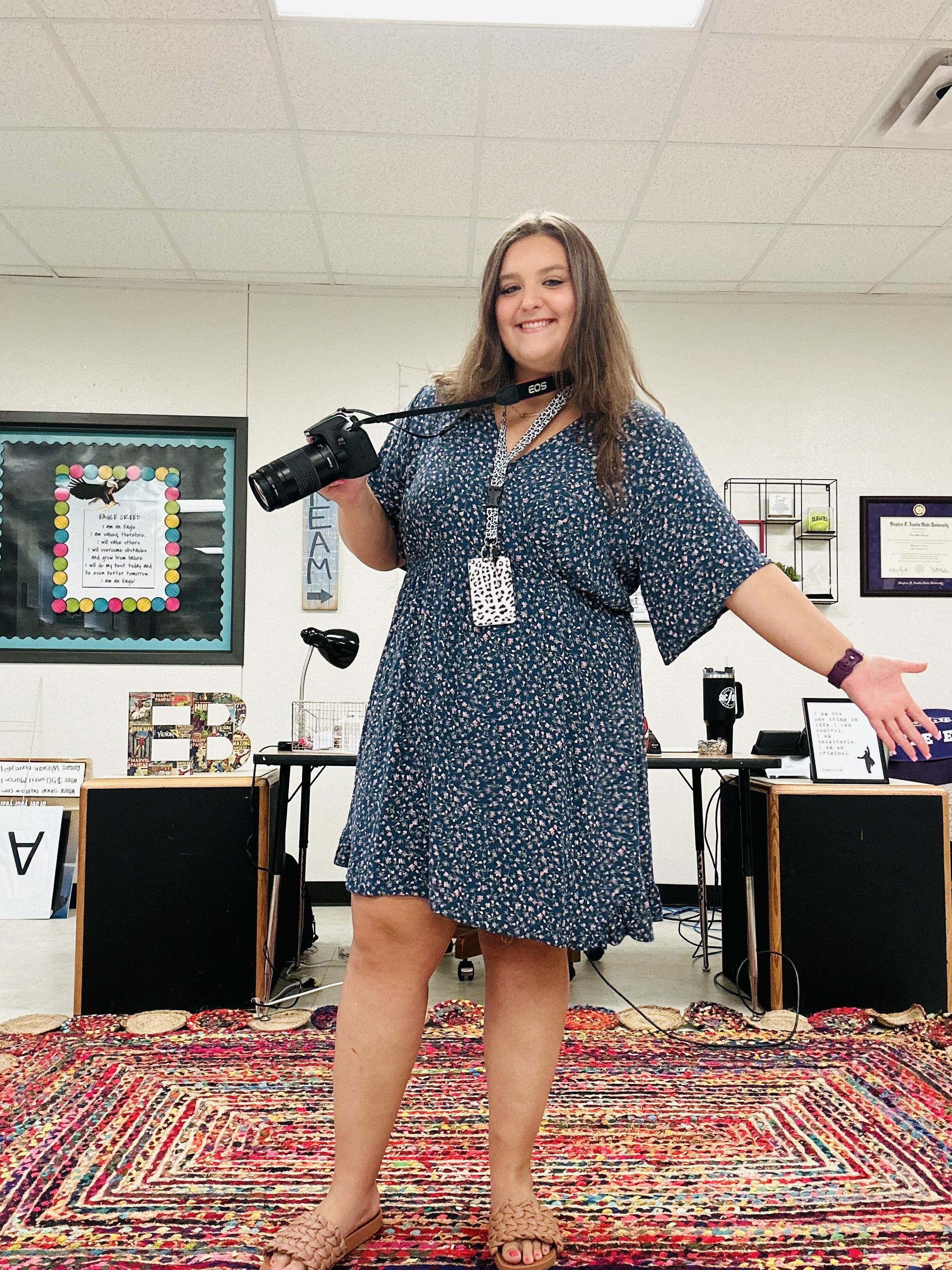 Elena Barnes is in her first year of teaching full-time at Arbor Creek Middle School, a fact that her younger self who was a senior preparing for graduation from Hebron High School, would have never guessed.
Elena grew up in Lewisville ISD, attending Polser Elementary, Creek Valley Middle School and both Hebron campuses. She was incredibly involved as a student, leading the spirit program at Hebron, playing softball for four years, and joining the broadcast program.
"I loved growing up in the district," she says. "There was so much support from my teachers and from other peers, so I had a great time!"
She graduated in the spring of 2018 and received LEF's Ron and Marilyn Allee Scholarship. All LEF scholarships are awarded through blind review which made her feel incredibly special since she ended up recognizing the donors of her scholarship and had grown up playing softball with their granddaughter.
"It was cool for Brady and Mrs. Vaugh to hand over the scholarship to me," she says. "I thought that was really sentimental and super nice."
One of her teachers at Hebron, Coach Tucker, sparked her interest in attending his alma mater, Stephen F. Austin University. There she majored in mass communications and focused on broadcast journalism, a passion that started in high school. Diving into extracurriculars, Elena joined the spirit organization on campus, the student publications program as their video coordinator, worked for ESPN and currently does work on the promotions team for the Dallas Stars.
"After I graduated college, it was post-COVID time which was kind of a struggle trying to land a job in the media, but I knew I needed to do something," she says. "An old family friend of ours bumped into me at Wal-Mart and said Hebron 9th grade campus is looking for a permanent sub so I said OKAY, why not!"
She began subbing at her alma mater, Hebron 9, and quickly fell in love with the students and education. She worked hard on earning her alternate certificate and now serves as the Industrial Technology teacher at Arbor Creek Middle School.
"Teaching tech apps is a lot of fun! In gaming and animation, I've learned so much from teaching this class, especially from the students. They are so smart! My kids are so unique and special. They want to learn, they're hungry to learn which I love and appreciate," says Elena. "I've felt welcomed, and people have opened their arms to me and made becoming a first-year teacher as smooth as possible. It's an honor and a privilege being part of this district."
The Lewisville ISD Education Foundation is honored to have played a small role in supporting Barnes' educational journey and looks forward to watching her legacy as a teacher grow in the district. If you would like to support student scholarships or other areas of need to help LISD students achieve more, please consider making a donation to the Lewisville ISD Education Foundation.