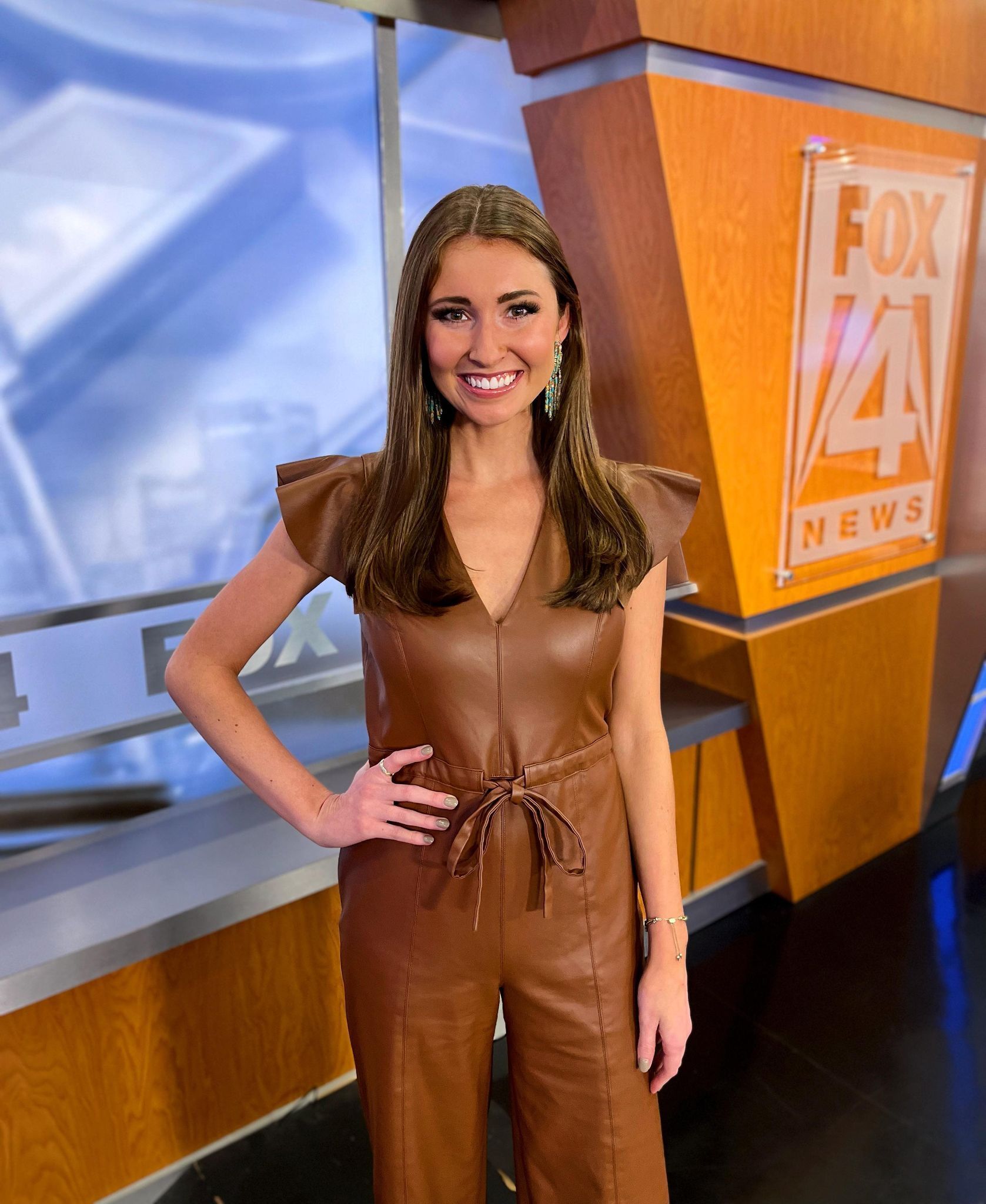 When Kylie Capps was 8 years old, she told her family that she was going to attend the University of Oklahoma to become a Meteorologist and eventually work in Dallas at one of the local news stations. Fast forward to today and you may recognize Kylie from your tv screen as she is now a Meteorologist at KDFW-TV Fox 4.
Kylie graduated from Flower Mound High School in 2013 and was one of that year's recipient of the FMHS PTSA Scholarship through the Lewisville ISD Education Foundation (LEF). She fulfilled her promise to her family and attended the University of Oklahoma and obtained a Bachelor of Science degree in Meteorology and also minored in Broadcast Meteorology and Mathematics.
"College ended up being some of the best years of my life. To be honest, Meteorology was an extremely difficult degree. It's one of the toughest programs at OU...and the number one program in the nation. In my intro to Meteorology class freshman year, we had 150 kids who intended to finish that degree. I graduated with about 36," says Kylie.
In college, Kylie was heavily involved in campus groups, activities, and internships. She was the Vice President of Education for her sorority, Gamma Phi Beta, a weather anchor for OU's student-produced newscast called "OU Nightly", and was also in the President's Community Scholars group which led volunteer efforts across campus. She never missed an OU football or basketball game, and could also be found on campus at Bible-study or playing weekly intramural games. In addition, she was also a waitress, a nanny, and interning at both NewsOn6 in Tulsa and News9 in Oklahoma City.
"I learned so much about myself over those four years, but most importantly, I learned how to balance work, exercise and healthy living, time with family and friends, my spiritual life, and overall well-being," says Kylie.
When she graduated in May of 2017, she began working as the weekend morning meteorologist at the ABC affiliate in Waco, TX.
"I learned so much in the short time that I was there," she says. "I was thrown into the fire when Hurricane Harvey struck the Texas Gulf Coast in August of 2017. I got a glimpse of rare, Texas ice storm coverage and became more confident in forecasting severe weather."
In the Fall of 2018, KDFW Fox 4 in Dallas hired Kylie as the weekend morning meteorologist, and Kylie achieved her lifelong dream of getting to work in DFW.
"I am so happy to be back home and am always learning how to improve my forecasting abilities by working with some of the best in the business," says Kylie. "I have a platform now that I use almost weekly to speak to elementary and middle school kids about following their dreams and educating them on what it takes to be a meteorologist. I hope to help others pave the way to a degree from their dream school, too...just as LEF's done."
It is clear that Kylie is no stranger to persistent hard work when it comes to chasing after your dreams. She advises students who are now in the position she once was as a college senior to not put so much pressure on themselves when it comes to getting the perfect test scores or scouring to find scholarship money. She recommends starting early, researching different scholarship and aid opportunities a year or two before even applying for college and mapping out deadlines for scholarships or financial aid applications so students won't miss any amidst the fun of junior and senior year high school activities.
"Everyone WANTS for you to succeed. And you will. Even if it's in a different way than your friends...i.e. working through college, applying for scholarships while in school, or even attending smaller two year universities, closer to home, to save money," she says. "Everyone's journey to their career is different and uniquely theirs. Make connections early on, and never give up on your dreams!"
LEF is so proud to have played a small part in Kylie's journey and looks forward to many more years of scholarship recipients fulfilling their dreams and sharing their stories with the community who continuously cheers them on.
"I am so thankful to have been chosen 10 years ago as a 2013 LEF scholarship winner. Time has flown by," says Kylie. "If it wasn't for your generosity, my journey to get where I am today might not have been possible. College is becoming increasingly more expensive, and I'm not sure if I would've been able to attend my dream school if it wasn't for you! Thank you again."