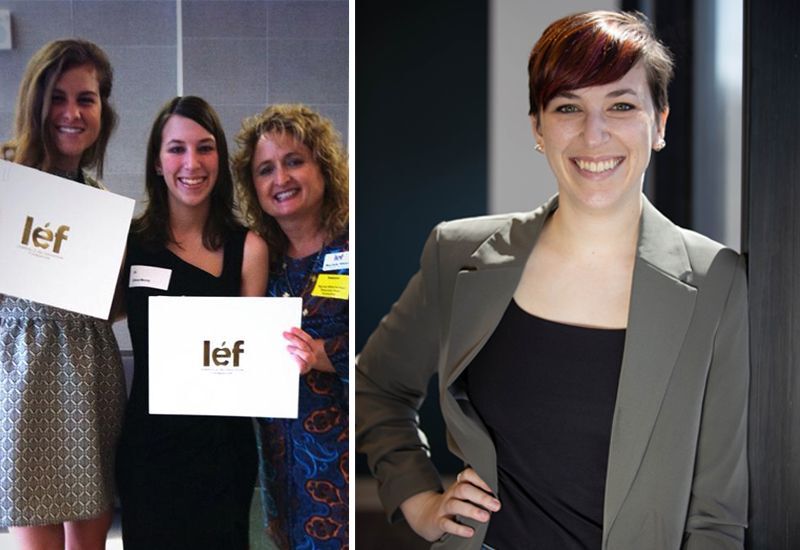 Olivia McCoy always knew she wanted to work with books when she grew up. After graduating from Marcus High School in 2014, she followed her passion to the University of Georgia where she studied in their language and study abroad programs.
"Honestly, college feels kind of like a black hole. I came in with a lot of AP credits that LISD was able to help me get so I actually got to come in as a sophomore," says Olivia. "Which was great because it saved me a year of tuition but also stressful because I came in at eighteen needing to know what my major was, what my career plans were, figuring out classes for my major."
Academically, Olivia's plate was completely full but she took full advantage of her educational opportunity by volunteering on campus, studying abroad one semester in Montpellier, and graduating with two degrees, one in English with an emphasis in Poetics and the other in French. Olivia was also one of the founding members of the Undergraduate English Association, a student organization on campus dedicated to keeping English majors informed of the latest career opportunities by organizing career panels.
"We bought in people from all walks of life, doing all sorts of things, who all graduated with English degrees. We had non-profit leaders, technical writers, and people working in business consulting and management," says Olivia. "They all talked about how their English degree helped them get there. Since we launched that program, they now have a whole class that is dedicated to careers after your degree."
After graduating, Olivia attended the University of Denver Publishing Institute where she received a Masters Certificate Degree in their one month course over the summer. Through this program, she learned the various ins and outs of the publishing industry like editing and marketing, and networked to help get a foot in the door when applying to jobs and internships. She began her career afterwards but was faced with two hurdles she wasn't expecting. One, she felt there was no upward mobility in the role she was in at the time and two, the COVID pandemic had started, affecting all industries.
"I was really having trouble being heard and figuring out the next steps in my career so I went back to school to get some extra experience, some extra credits and learn from other creative industries so I can move up in my career," she says.
And move up in her career, she has. After graduating with a MS in Leadership for Creative Enterprises from Northwestern University, she started in her role as a Publicist and Marketing Associate at Smith Publicity. Because of her diverse education and experience, she is able to consult the company on how to grow their in-house marketing and advertising offerings for authors. In addition to her consulting and publishing work, she is also the social media manager for several of the companies platforms and is the host for the company's podcast, "All Things Book Marketing."
"Ideally in a few years I'll get to be a manager and work myself up to a director and then I'd love to grow in other areas of my field," she says. "I always knew I wanted to work with books so I started off as marketing and then I moved into this publicity role but I'm learning more every day about branding and about the publishing timelines and pathways and different distribution topics. I want to know a little bit from every area."
Her work with authors is pivotal in helping them build up their brand and who they are to help them get established for the publicity campaigns down the line. Additionally, Olivia is now signed up through UGA to mentor two undergraduate students and offer them guidance and opportunity help. Her career success in the book marketing and publicity industry is sure to elate and inspire those in her past who Olivia believes played an integral role in her career.
As the 2014 recipient of the Heritage Flying Hawks scholarship, Olivia is a first hand witness and beneficiary of the level of true support offered by the LISD community.
"What meant the most to me about that scholarship was not only did it help me financially support moving onto the next step in my life but I do feel a continued support from my elementary school teachers."
Olivia stays in touch with many of her former teachers on social media and actually emailed many of them when she got her first job in the industry.
"Just having that continued support from being a kid and being told not only 'you can do it' but 'we support you', both in words and action has been incredibly humbling and amazing," says Olivia. "It's not just saying it because that's what you're supposed to say as a leader and mentor, but backing it up with action really does bring it home."
Olivia can still recall all the teachers and LISD staff who supported her throughout the years and she is so thankful to them. Not just through the Heritage Elementary community who donated to provide her scholarship but to everyone who made her feel seen and heard.
"I know that LISD and Heritage through Briarhill and Marcus had an enormous amount of kids but when I look back, I don't feel like I was lost in the mix, ever," she says.
"I remember the second grade, when I moved here from Canada. Prior to that I had been in a French immersion school and I didn't know the educational vocabulary in English, and my second grade teacher carried around an English to French dictionary to translate tests and questions for me. We were worried about me being held back but I was top of my class that year with her help. I had teachers stay after school to support me and I remember Miss Deb who ran the books program where kids got pulled out of class to write books and draw illustrations and I must have done a dozen of those and she was always super supportive. I just can't thank them enough for that one on one individual thought and attention I received despite being one of a lot."
LEF is so proud to be a small part of Olivia's journey and even happier to help tell her story to the community who gave her so much love and support. She wants to say thank you to her most influential teachers, McCormick, Jackson, Ulary, Cain, Mcknight, Strain, Spurgeon, and Lee. And of course, thank you to the donors of the Heritage Flying Hawks Scholarship.