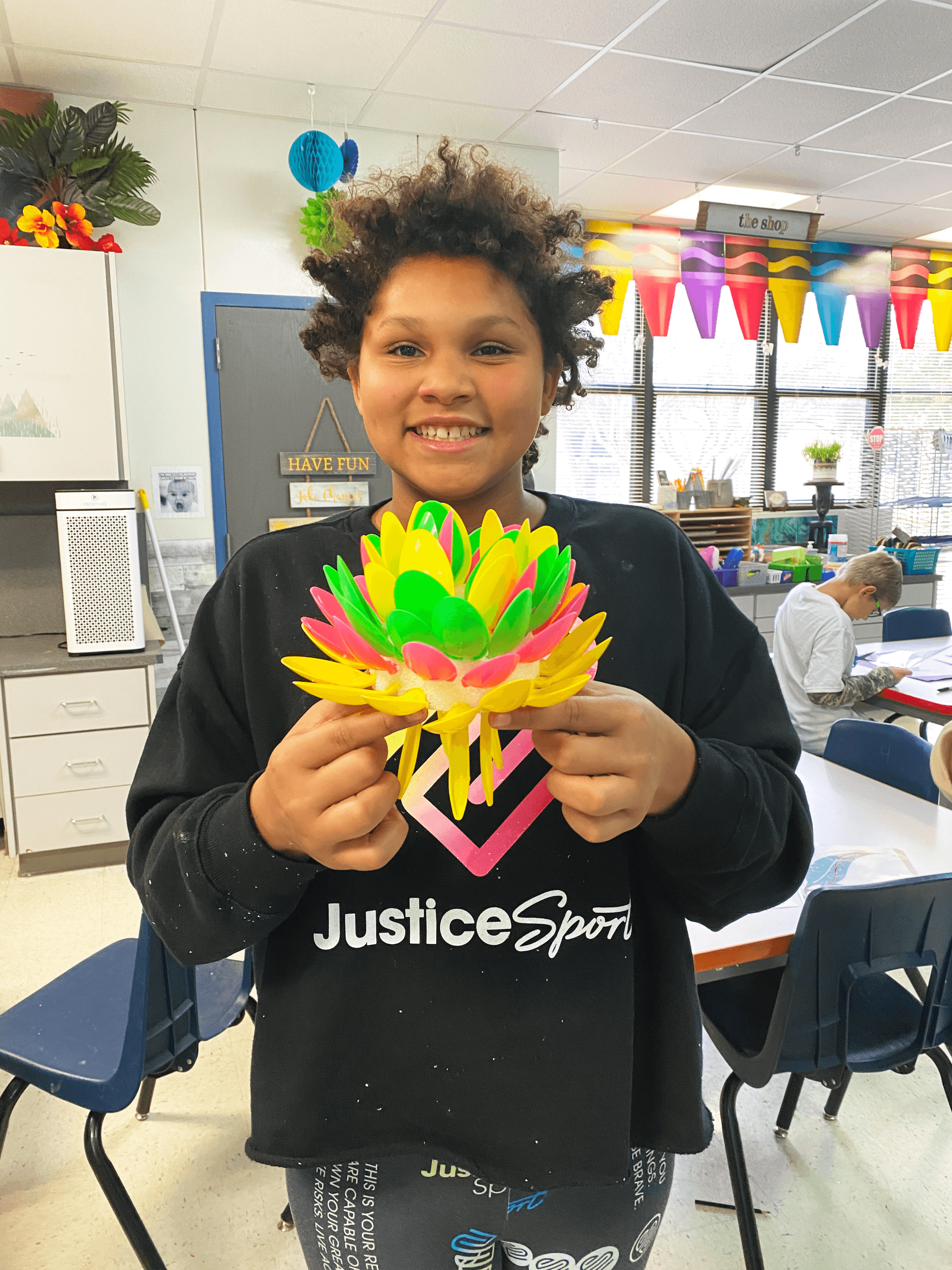 Transforming through Chihuly Exhibition
Chelzee Lentz, art teacher at Ethridge Elementary in The Colony was among 64 teachers who received an LEF Teacher Grant in August 2021. Seven months later, the art exhibit her grant funded is now open and ready to amaze. This is Mrs. Lentz intro to her student's Chihuly art exhibit letter:
"I'm excited and proud to share that my little Ethridge Eagles and I are ready to present our Transforming through Chihuly Exhibition this March 10th (open house) – April 29th. With this LEF (Lewisville Education Foundation) grant, my students, volunteers and I have created an exhibit that highlights art inspired by American artist Dale Chihuly, who not only is successful but is a living legend despite a humble upbringing and having had traumatic life experiences throughout his life.
Dale Chihuly had a stay-at-home mother, a father who was a meat packer that passed early in his life, a brother who died young, and as a young man, he had a terrible car accident that changed the trajectory of his art career. Dale recovered but he lost all sight in his left eye and dislocated his right shoulder. Despite these hardships and rather than quitting his life's work, Chihuly adapted and became a successful artist and sculptural engineer leading a team of glassblowers. He received honorary doctorates, two fellowships from the National Endowments of the Art, earned his Master of Science degree, earner his Master of Fine Arts degree, founded the Pilchuck Glass School and established the Seniors Making Art Organization in 1991. His work has been displayed all over the world and the Seattle Center has a permanent showcase of his work.
My Transforming through Art & Science grant has a dual purpose. Comparing the delicate social-emotional balance of our children's lives over the past year with the delicate balance of creating metamorphose sculptures. Chihuly demonstrates how to create beauty from heat and pressure in his chosen medium of transforming sand to art glass. Students have experienced, created, problem-solved, and observed how different mediums perform under heat and pressure while learning color theory and an appreciation for contemporary art. Throughout their creative process, students have been taught life-long skills, patience, and craftsmanship.
Each month, all students have created a botanical sculpture lesson that aligns with our global theme (Around the World) and the overall objective of the grant that showcases STEM, SEL, and fine arts disciplines into an environmentally conscience (recyclable) exhibition. With this project, I hope to meet the district's discipline, integration, and writing goals, as well as art and science standards for all students.
Transforming through Chihuly has been a collaborative endeavor with students, parents, teachers, and staff support. This effort will demonstrate the ability of a community working together to create something bigger than us as individuals establishing a true sense of unity and collaboration.
Our Ethridge artists have gone through a variety of life-changing experiences through these unprecedented times. With this project I hope to have taught them to establish skills, self-awareness, confidence, patience, and drive. I believe my students have thoroughly enjoyed the experimental art process and appreciate Chihuly's success despite his hardships."
Read more about Ethridge Elementary's Transforming through Chihuly Exhibit on LISD.NET
Learn more about the brain health benefits of drawing & painting.