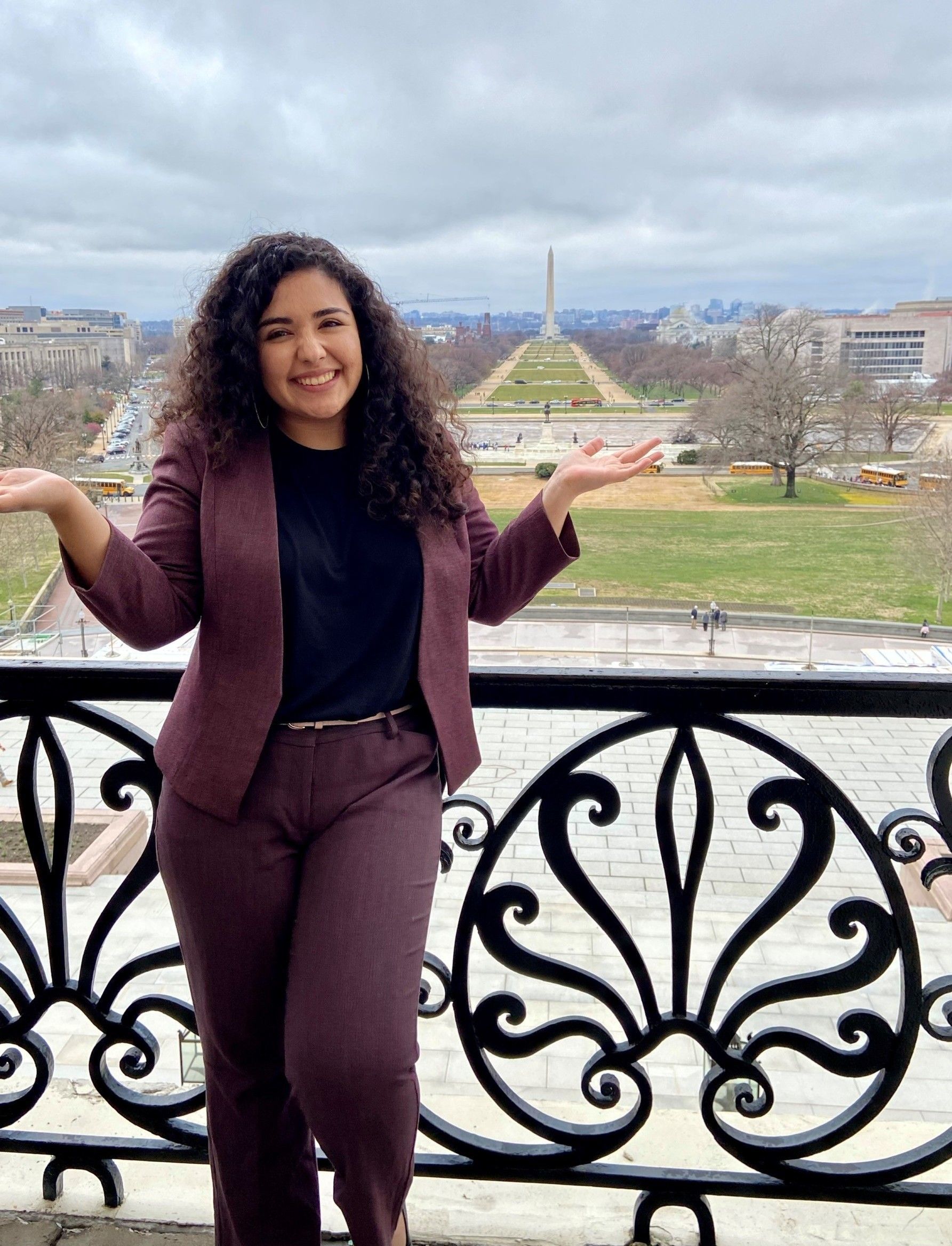 Meet Madison Lopez
At the age of six, Madison Lopez witnessed the devastation Hurricane Katrina made on countless homes and people when refugees began arriving into the Lewisville and DFW area. Her family and members of her church put together bags of toiletries and small comforts to deliver to the packed hotels. As a small child, this was a critical moment in Madison's life where she realized how much she simply wanted to help people. Sixteen years later, Madison is about to begin her first year at Southern Methodist University's Law School where she attained her Bachelor's degree in Political Science and Human Rights.
Growing up in LISD, her love of community involvement and helping people only grew. She joined the Junior World Affairs Council, and participated in student council at Lewisville High School. She befriended Chin students who taught her about their country and culture, and challenged herself with history courses that pushed her to think critically. When her attention turned to college, she knew exactly what fields of study she wanted to pursue and soon knew exactly which university she wanted to attend.
"Whenever I first visited SMU, I fell in love. I knew that that was the school I wanted to go to but in doing research, I quickly found out that SMU is one of the most expensive schools in the country," says Madison. "I remember late night conversations with my parents telling them 'I know I can get into this school but I don't know how I'm going to pay for it.' They'd always tell me, 'Scholarships are going to come, scholarships are going to help' but deep down, I was still so unsure how SMU was going to get paid for."
She, like many other high school seniors, struggled with fear and anxiety, applying for financial aid and scholarship after scholarship. Her parents council soon came to fruition as she heard back from a small local foundation.
"The moment that I found that I got the LEF scholarship, it was as if so many of those fears and anxieties had gone away," says Madison. "Because it was just one small step in saying 'Hey, you've earned this and it's going to be okay, You've worked hard, and it's going to work out.' And so, even though these scholarships may seem small, they're actually so impactful because they show that these students are worth it. And I was so thankful to be told I was worth it and I could do this."
That was, of course, only the beginning for Madison, who would soon be awarded more scholarships through SMU and through the Junior World Affairs Council. With her dream school now financially attainable, she wasted no time in making the most of it.
"As soon as I got to SMU, I wanted to get involved with as much as possible so my schedule has been filled to the max for the past four years but it's all been an incredible experience. I wouldn't change anything. I have loved every second of it," she says.
She helped found an anti-human trafficking organization on campus – the Student Alliance Against Trafficking. She specialized in public policy in international affairs, travelled to D.C., and interned at the McCain Institute. Now graduated, she is the youngest person to sit on the Board of Directors for the Texas Ramp Project – a non-profit that focuses on building ramps for the home-bound. She works to provide a young and fresh perspective for the organization's social media outreach while she begins her law school journey.
"I think we forget just the very, very simple privilege of being able to walk inside and outside of our home. For these people, they may not be able to get to doctor's appointments or get groceries so if they don't have the funds to build a ramp, then the Texas Ramp project comes along and has a team come out to build a ramp for them. It's just an awesome service-oriented organization."
As Madison continues forward with her life, we at the Lewisville ISD Education Foundation are so proud to have played even a small role in helping her realize her educational dreams. There is no doubt that her giving spirit and brilliant disposition will make the world a much better place.
"Truly, it was not just a scholarship. It was an act of love and generosity that eased my fears, gave me hope, and reminded me that God always provides." – Madison Lopez (2017 recipient of the Doug Killough Memorial Scholarship)