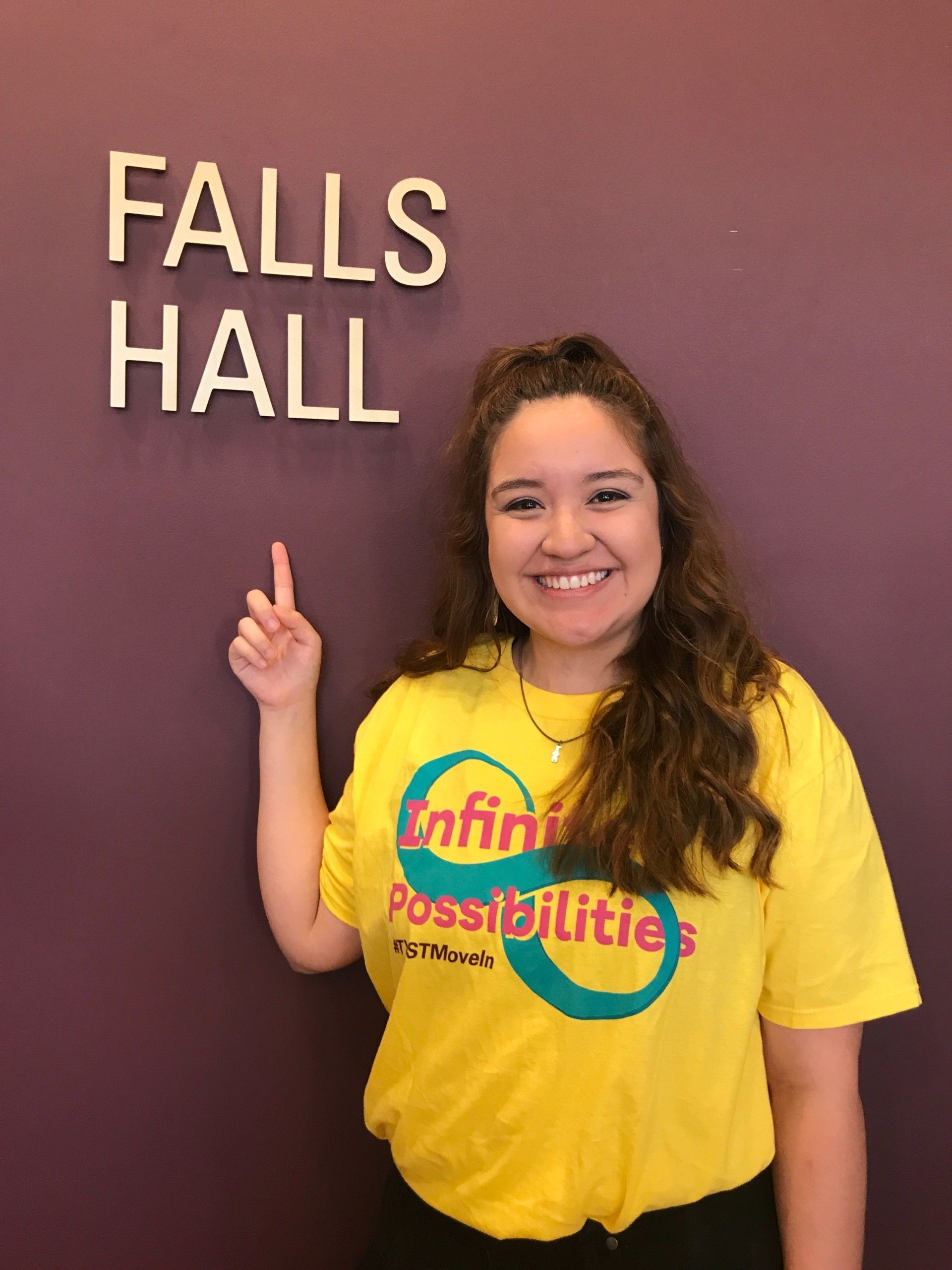 Araceli Castillo – Finding Her Way at College
When Araceli Castillo first started college as a freshmen at Texas State University, she was just trying to find out more about who she was, what she was passionate about, and where she would fit in. She excelled in academics and student organizations but struggled to find an outlet at her new school that she could call her new home. That was six years ago and a lot has changed for the Class of 2015 Doug Killough Scholarship recipient.
"By my sophomore year, I just really wanted to be a part of an organization that did philanthropy and did social events together and things around the community – while still staying focused on career and grades. So I decided to rush a sorority and that's when I joined Gamma Phi Beta," says Castillo. "I think that by joining, it really made my experience take a 180. It was so nice to be around people that were like-minded and wanted to learn more about me and were doing great things at the university."
While Castillo loved the sorority, she wanted to keep her interests and hobbies diverse so she jumped into becoming a university ambassador to give campus tours to prospective and future students. In doing so, she discovered her love of mentoring students, especially ones who may have been anxious or scared about the college admissions process, by sharing her own past experiences.
Making an Impact Through Mentoring
"I got to give them a little bit about my experience, my knowledge, but also be able to expose them to a place where I was so happy at. Texas State is a place where I don't think I would have been happier anywhere else. I love the school so much, I got to really project that to incoming students," she says.
She also was able to mentor students from her alma mater when Coach Grant Wilhite, her high school AVID teacher, toured the university with his class.
"It was so nice to still stay connected to the organizations that really guided me to be where I was," says Castillo. "That was really special to me, being able to speak with students that were in the same path I was once on."
The flame to serve her fellow peers was fanned even more as she continued down the path. She was hired in the admissions office, became a Residential Assistant, and later became a peer mentor for the university's freshmen seminars. In the spring of 2019, she graduated.
"I was really fortunate that I was given so many opportunities and I think people really resonated with my story and what I was doing, It was just a really great experience and I was really sad that it was over because I think that I got everything that I wanted to out of college."
Turning Her Passion Into a Career
Castillo was hired and quickly promoted at her first post-grad job as a sales team member of Yelp but knew that she wanted to do something that she was a little more passionate about – something that would give her as much joy as her service and mentoring positions at school.
In the fall of 2019, she made the move to Washington D.C. after finding a job that would give her exactly that. Castillo's new position has her working for Full Measure Education, a technology company that focuses on improving communications for incoming students and higher education institutions.
Retracing Her Steps
Finding happiness and fulfillment in her new home, Castillo can't help but reflect back on everything -and everyone- who helped her become the person she is today.
"It's so weird for me to remember that for the first few years of my education, I didn't grasp or understand the English language," says Castillo, recalling that she was an ESL student up until her sixth grade year. "Being so small and having to master two languages is so difficult but I feel so fortunate now to know two languages because I feel like a lot of people don't get that opportunity."
As for the Lewisville High School teachers who made the biggest impact on her, Castillo remembers Coach Wilhite and Mrs. Allison Stamey the most.
"I was really fortunate to have a lot of mentors and a lot of great educators that really looked out for me. Coach Wilhite sort of molded me and let me decide for myself what was going to be best for me. He just kind of always supported me and I always think about that. He really helped steer me in the direction that I had to be in but also giving me the flexibility of becoming my own adult and making my own choices. And Mrs. Allison Stamey, she helped me a lot through junior and senior year by teaching me how to be a better leader and get out of my shell and stop being so shy," says Castillo. "I'm so grateful for everyone who believed in me and put a lot of effort into me because looking back now, I know that they had so much on their plate but they still took the time to make sure that I was doing okay and that I was setup for a bright future."
Building a Support System
LISD and her teachers certainly set her up for success, but Castillo struggled with what many first-generation college students across the nation are dealing with – the unsurmountable task of paying for college, finding financial aid, and applying for scholarships and grants, with no one available to help.
"Doing all the scholarships, doing all the financial aid stuff really deters a lot of people because I think if you don't have someone to guide you through it or someone to explain to you, it can completely discourage you to pursue it. Because it feels like it's out of your hands, out of your reach," she says.
She hopes that her younger sisters, both currently attending LISD schools, won't have to deal with this hurtle, and that she will be able to act as that person of guidance for them. Foundations like the Lewisville ISD Education Foundation hope to continue providing financial assistance for seniors so that the pursuit of higher education isn't perceived as unattainable for first-generation students.
"Every small amount, every scholarship that a student earns, especially a first year student that maybe doesn't have a constant support system or is feeling like going to school is so out of their reach, matters. I feel like rewarding a student with a scholarship lets them know that they are indeed worthy of receiving an education, and more than that, that they have a support system," she says. "I just think it's so helpful because some students are deterred from pursuing that first semester because they don't have money to cover books, tuition, or housing, it helps out so much. It's a way to allow students to feel like they matter and that they are doing big things."
LEF is proud to have played a small part in providing a support system for Araceli to go to college. The foundation, along with other community groups that provided financial assistance for her education, look forward to following her journey and career as she leaves the world a better place then when she found it.