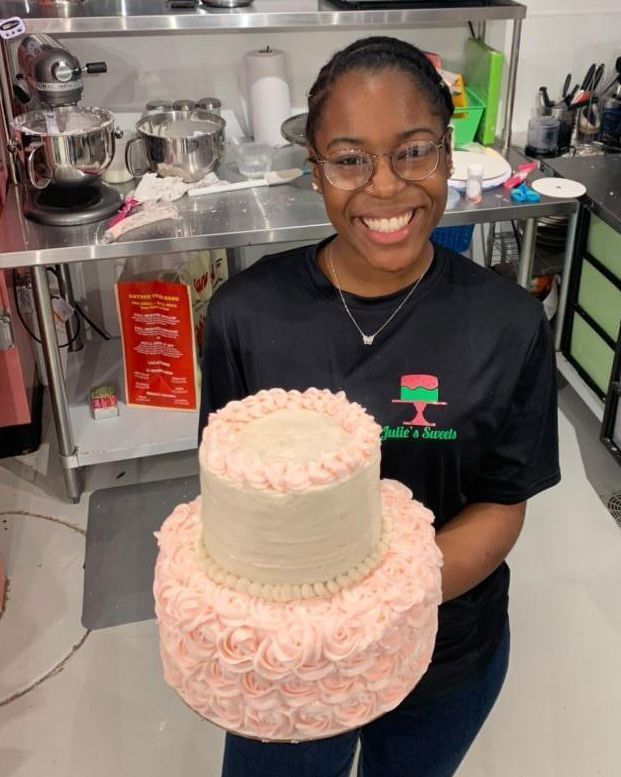 Anastasia Tucker has always loved working with her hands and can frequently be found drawing, sewing, and working on ceramics. Her true passion though can be found in the kitchen; cooking, baking, and decorating sweet morsels.
Talent and dedication will take her far in life but thanks to the networking and support of her school district, local community, and education foundation, she's been able to grow her passion into an aspiring career and gets to start her dream a little bit sooner.
Being a student at The Colony High School, she joined the culinary program as a sophomore and has flourished under the professional guidance of Chef DeRosa, Chef Gina, and Coach Hurst at TECC-West. Different to the teaching styles of traditional academics, the programs at TECC-West allow students to get hands on experience in a variety of trades and even graduate with an array of professional certifications.
"The culinary program is definitely not book work like writing notes or taking tests or anything. It's mostly performance and participation. It's not like typical school at all. I definitely enjoy this more than sitting down at a desk," says Tucker.
The only time that Tucker has even sat down with a pencil and paper during her culinary classes was to study for the nationally recognized ServSafe Food Protection Manager certificate, which is a five year certificate that qualifies her to be a food manager in the restaurant industry.
As the culinary students learn techniques and the safety and sanitation of the kitchen, they are also learning invaluable transferable skills that will set them up for success for all future endeavors.
"The beauty of teaching Culinary Arts is that it is cross-disciplinary, it pulls from a student's prior knowledge from their core classes. Culinary Arts requires math, literacy, and of course baking is a science in and of itself," says Chef and LISD instructor, Gina Parry. "Culinary Arts is all about teamwork, so students have the opportunity both in their classwork and in cooking labs to work together every day. This helps students develop their understanding of efficiency, respect, responsibility, time-management, and organization, all of which is needed to ensure that their group work consistently exceeds expectations, as will be expected of them in the "real world," no matter the industry they ultimately pursue!"
In Fall of 2020, Tucker was thriving in the program but found her job as a shift manager at Jimmy John's lacking. With all the knowledge and new skills she was developing, she wanted to find a job that would challenge her and put all her learning in a real-world situation. She voiced her concerns to Chef Daron DeRosa, who would soon find the perfect opportunity for her.
October 18, 2020, the Lewisville ISD Education Foundation hosted their 30th anniversary Evening for Education at the new real estate development, Grandscape. Featuring a student showcase, LEF invited the TECC-West culinary program to be a part of the groups of local restaurants that provided food at the event, where they wowed the crowd with a whimsical latin-asian fusion cuisine. A partnership with the district and Grandscape was formed which would kick off the local network that would work together to land Tucker her dream job.
Yolanda Temple, owner of Julie's Sweets, a popular bakery that was previously located on Main Street in The Colony, had just relocated to Grandscape and was growing her business and needed to hire a new baker. She voiced her situation to Grandscape Marketing Manager, Chris Madden, who knew all about the talented students of the TECC-West program thanks to the LEF event and LISD partnership. He suggested giving a student a chance and although the thought seemed odd to Temple, she agreed to see what the program had to offer. Madden called Chef DeRosa, where he highly recommended Tucker.
"I placed ads on Facebook marketplace and Indeed and hadn't really been able to find the right candidate for my bakery," says Temple. "So I gave Anastasia a call and she sent me her resume and some pictures of her work. She came in for an interview and it was a perfect fit. I like her work ethic, she's very attentive to detail, very professional and very responsible. When hiring teenagers, you don't always get the commitment you do when hiring an adult but she has always been very professional and takes good pride in her work. I appreciate that a lot."
Anastasia now works as a baker and decorator at Julie's Sweets, working side-by-side with Temple on their small 4-man team.
"I love working there! I feel like I fit in, like I'm the missing piece of the puzzle," says Tucker. "Working at Jimmy Johns, we weren't really cooking, more like building sandwiches but at the bakery, I get to decorate and that's what I love – to make things look good and to work with my hands."
Chef DeRosa, who has worked for corporate hotels and food service companies all over the world and taught at Le Cordon Bleu for 9 years, is proud to see Tucker and his students succeed. He believes that if students are willing to put their best efforts forward and learn every possible thing they can in every situation, they will be able to seize all opportunities, just like Tucker has.
"I often tell students that a mistake is not necessarily a failure if there is something learned. I urge our students to never be complacent or to accept mediocrity from themselves in their work," says DeRosa. "We hope our students leave us with a level of confidence, training and education that sets them apart and provides them with the employable skills and traits that will help them be successful, regardless of their career path."
Graduating this year, Tucker wants to continue pursuing her love of baking and attend culinary school with the hopes of one day opening up her own bakery. Until then, you can often find her on weekends at her baker's station, piping perfect icing roses onto beautiful commissioned cakes that would tantalize anybody's sweet tooth.