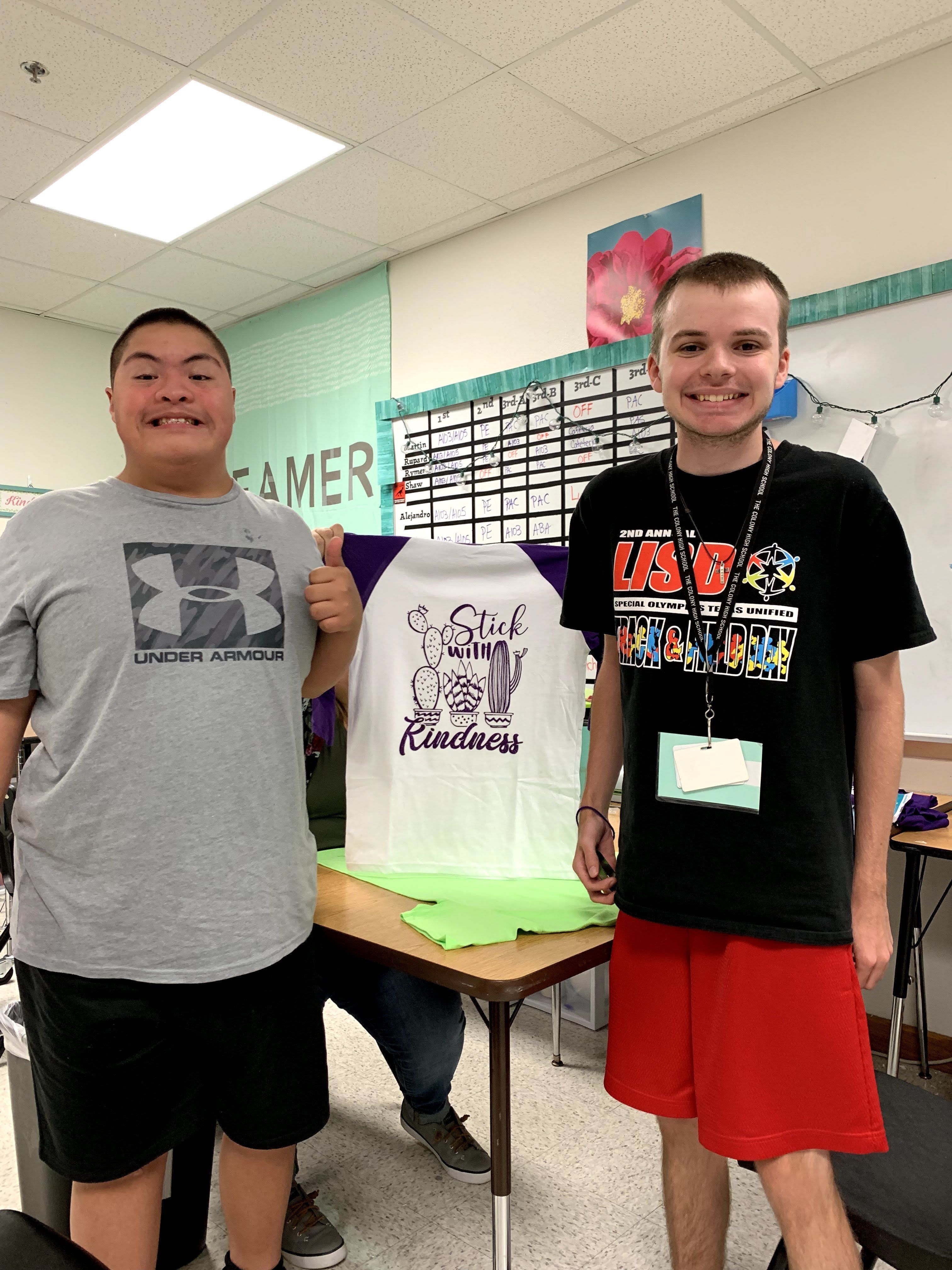 Students, teachers, and community members throughout The Colony can be seen wearing the latest fashionable t-shirt designs and rocking custom-made accessories thanks to successful new local business, Radiant Treasures. A student-run business based out of The Colony High School, Radiant Treasures is a classroom program where everything from product development, inventory production, advertising, and logistics is run by TCHS' Life Skills students.
"We wanted to start a business that would facilitate vocational skills for our students and would prepare them for careers in the future," says Jennifer Shaw, Special Education teacher at The Colony High School.
To turn this dream into reality, Shaw applied for a teacher grant through the Lewisville ISD Education Foundation in 2019. She was awarded the Ryland Homes Grant and the Pat Watts Memorial Grant which were used to buy craft supplies, equipment, and tools.
"We named Radiant Treasures after a former student that was here, Jessica Martinet who passed away, and we called her our little ray of sunshine. So since our employees are treasures to all of us and they radiantly shine every single day, we thought that was just a cool name to go along the theme and to honor her memory. It really has taken off," says Shaw.
The business goal of Radiant Treasures is to make the Pinterest dreams of customers come true with custom t-shirt orders and unique crafts like tumblers, rag wreaths, mask lanyards and bath bombs made entirely by the students. The learning goal behind the program is much more in-depth and addresses all different manners of social engagement, self-growth, independence, problem-solving skills and employment eligibility.
"Anytime we create a product, we try to think about skills and tasks that students of all different ability levels can participate in. For example, with the rag wreaths, I have some students that struggle with their fine motor mobility but this is something that they're able to be successful at because they can sit and rip the fabric," says Shaw. "And then we have other kids who have better dexterity and are able to help tie the pieces onto the wreaths. We have three level of life skills classes and all three levels work together to create the different products."
Each student is able to find the areas that they excel in and are able to build off their strengths. For example, Joseph loves to paint so he focuses on painting custom signs and doorhangers for customers. Clara finds joy making t-shirt designs while Chris uses his strength to operate the t-shirt press. Shawn, who does well in math will write down customer orders, receipts and handle the bookkeeping. Seth helps make deliveries with his mom's help, who is a teacher in the district.
In addition to finding a student's strengths and developing them into employable skills, students also use Radiant Treasures to work on their Individualized Education Program goals like Zach, who is working on his individualized goal of following rules and multistep directions which can help him in his dream to one day work for Burger King.
"I have to say that the kids… they just amaze me, every single day. They surprise me with their knowledge and their skills and how much they grow," says Shaw. "We have kids that come to us not even being able to recognize money and then by the time they leave, they're counting money and helping us with being able to figure out how much change we owe our customers and all kinds of things like that."
As the owners and staffers of Radiant Treasures, the Life Skills students are a well-oiled machine that all work together and get the job done. The program focuses their business on The Colony feeder pattern because that is the community where the students live in and will one day be employed in after graduation.
Once an order comes in, the students are responsible for writing the order down on an order slip, then throughout the day, they will figure out what work needs to get done and divide it up. Some kids will work on ripping fabrics, some work on painting, others on pressing t-shirts and others on bagging and tagging.
Even during the COVID-19 pandemic, where long-time established businesses have had trouble adapting to a new business model, Radiant Treasures has excelled and kept business going while being safe, switching their products to be non-food related, making deliveries contactless, and promoting more with social media.
"My biggest goal always is just to spread awareness – the awareness of how valuable every single person is, no matter skin color, or ability level, or 'diagnosis' or whatever it is that you want to call it. Just that every single person is valuable and can make a difference in this world," says Shaw. "That's one of the things that's so special about our kids. They don't see differences in people. I just wish that everybody was that way, that we could all just pull together and focus on the strengths that everybody has."
Shaw hopes that the success of Radiant Treasures will one day develop into a community within a school that works as a fully functional miniature town complete with a mock bank and businesses like a grocery store so that Life Skills students can continue their development even more. For now, Radiant Treasures looks ahead to preparing for seasonal spring products and Mother's Day gifts.