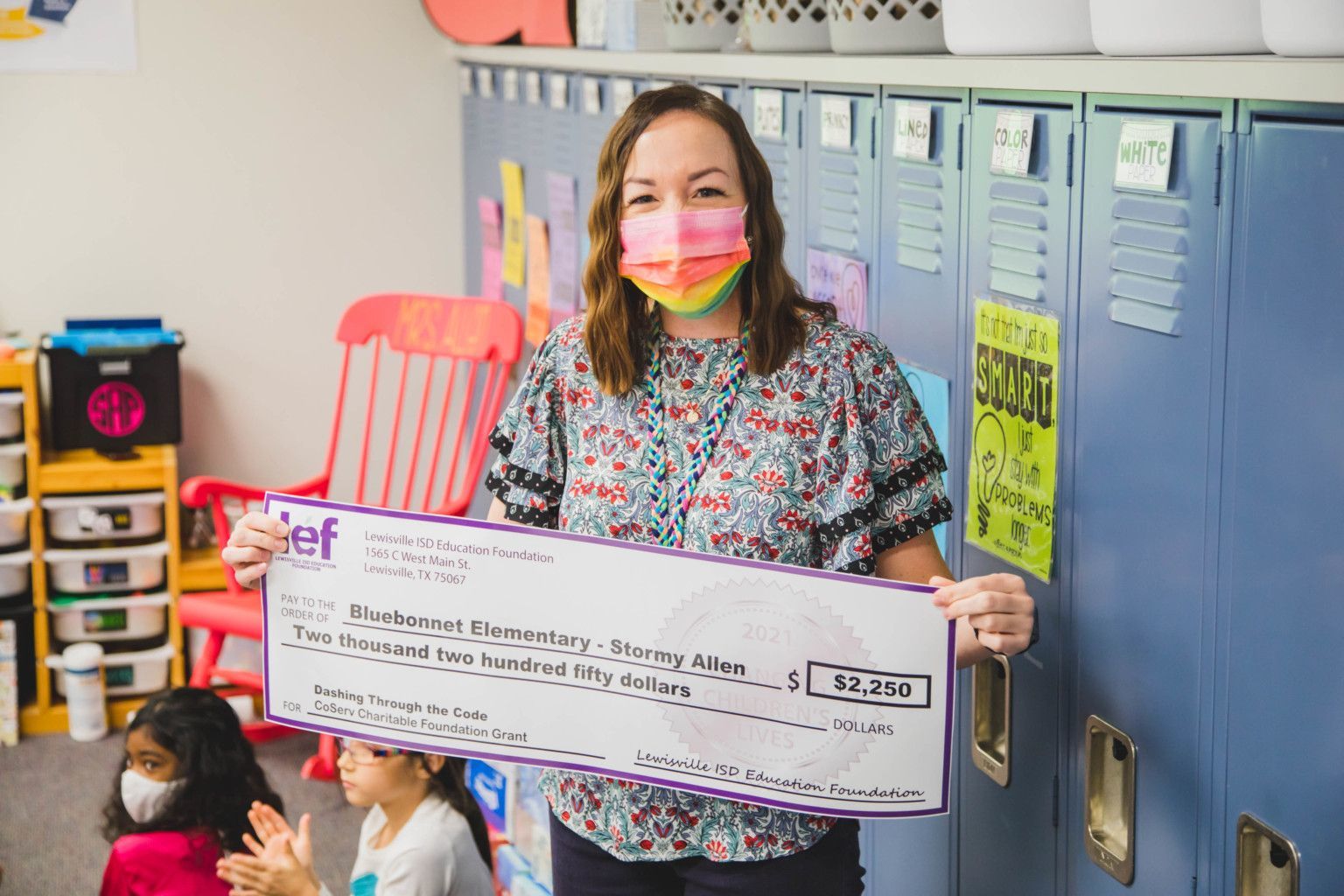 LEF Awards $104,000 in Teacher Grants
The Lewisville ISD Education Foundation (LEF) awarded 64 teacher grants to 40 schools across the Lewisville Independent School District on Wednesday, August 18. Totaling over $104,000, the awards were a welcome surprise to teachers and educators who, after a challenging year of virtual and blended learning, knew exactly what type of projects they wanted to apply for.
"The applications which were submitted a few months ago in May made it very apparent that our teachers are ready to embrace the future and prepare for a diverse learning environment to suit all children's needs," says Dr. Thomas White, Executive Director of LEF. "We had a wide spectrum of submissions that requested everything from technology to books representing diversity in cultures as well as language."
One such teacher who applied and received a grant like this is Veronica Hernandez, a Coyote Ridge Elementary educator who was awarded the Loretta A. Jeane Grant and Employee Giving Grant to fund her project entitled Holidays of Our Community (Diverse Holidays All Year Long).
"My grant is to provide books during holidays that are diverse – so we want to celebrate Christmas but we also want to celebrate Hannukah and other holidays that are happening throughout the year that is going to be relevant to our community," says Hernandez.
Another subject that grants were highly requested for were STEM-specific projects, like Parkway Elementary's project Problem Solving in Primary, submitted by Paige Krause. Her grant, funded by the Darla Martens Memorial Grant and Employee Giving Grant, will provide her classroom math workshop stations and activities intended to improve problem solving and math skills and can be interchanged throughout the year based on student's need and growing skill level.
"We got a grant for a lot of stuff that you can problem solve!" Krause explained excitedly to her classroom, LEF grant check in hand. "You can learn how to problem-solve and work together and create new things and you get to learn how to collaborate – that's a big word, huh? Say co-llab-or-ate!"
Her students, like many others across LISD, cheered enthusiastically, knowing that this was a special day for not only their teachers, but for them as well.
With over $43,000 of the money awarded being funded by the Employee Giving Campaign, these Teacher Grants are just another example of how incredible LISD teachers really are. Funds donated by employees are reinvested directly back into the schools, showing a vested interest these educators have in their community, where they are not only willing to put in their time and energy into the students, but also their hard-earned paychecks as well.
Other grants were funded through LEF's endowment program and community donors, many of which are setup as memorial grants for loved one's who worked and dedicated their life to education and to LISD schools.
"My brother and I both graduated from LHS and my mom worked as a speech pathologist at Liberty Elementary in LISD," says Hannah Vaughan, representative of the Anne Harvey SLP Memorial Grant, which was setup for her mother. "When she passed about six years ago, we really wanted to do something that honored the things that she cared about. So we have a scholarship for women in STEM that are graduating from LHS and then there's this grant that helps with Speech Language Pathology in classrooms and with people who really care about their students. So that's exactly why I'm here."
Teacher grants ranged from $300 to $2,500 and were awarded to not only traditional campuses serving students K-12 but also went to specialized campuses such as Night High School and the Student Success Center.
Applications for teacher grants open annually in the spring and are blind reviewed and chosen by a group of community volunteers. This is the third consecutive year that LEF awards more than $100,000 in teacher grants to LISD and plans to continue that trend are not likely to change anytime soon. Visit www.lisdef.com to learn more about the Lewisville ISD Education Foundation and how you can become involved in our scholarship and teacher grant programs.
Support LISD education through senior scholarships, teacher grants, and special District projects! Click the button below to donate.