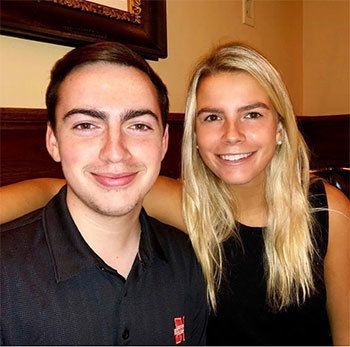 William McCrady really liked Latin at Hebron High School.  At first, it was because he thought it was the only foreign language he wouldn't have to speak.  After he joined the Hebron High School Latin Club though, it went to another level. It became the most enjoyable experience during his time in high school and one the highlights of his short life.
As with most memorable high school experiences, it was due to a few important things – his teacher, his friends and the experiences he shared with them.  The highlight of William's Latin Club experiences were the trips he made to the area, state, and national conventions.  He and his team were able to win a Texas UIL State Championship and show well in the national conventions, but it wasn't the accomplishments that defined his experience.  The best part, which he spoke of often, was traveling with friends.
When William's life was tragically cut short, it was important to his family to attach William's name to something he enjoyed, and that he would want to make sure continued.  As a result, his family and friends decided to fund the William McCrady Memorial Endowment for the purpose of providing a college scholarship to a deserving member of the Latin Club and also (maybe even more importantly) making sure that everyone who wants to travel to the conventions would have the funding necessary to meet needed travel costs.  It will be open to all Latin Club members with the hope that no one will miss out on an opportunity to have the same positive life experiences that William did.
William Thomas McCrady, 23, of Lewisville, passed away on September 5, 2021, as the result of an unexpected and tragic accident.  He was born March 26, 1998, in Elk Grove Village, IL, the son of Tom and Adrienne (McKenzie) McCrady.  He graduated from Hebron High School in 2016 where he played tennis and was a member of the Latin Club, winning a 2016 Texas UIL State Championship.  He recently graduated from the University of Nebraska where he was a member of Alpha Gamma Nu Fraternity and served on the Judiciary Council.   William was a nationally certified Emergency Medical Technician and was beginning a career in Clinical Lab Sciences.
William was a wonderful young man, or as his father always referred to him, "a good lad," who leaves behind many family and friends who will always miss him.  William lived an authentic life, true to his values, and he had an unique ability to meet people on their own terms without judgement or reservation, offering them the kindness and support they needed in that moment.  His hobbies and activities included playing video games and Dungeons and Dragons with his friends, watching anime cartoons with his dad, doing anything his mother ever asked of him, and ruminating over life's big questions during Fat Straws and late night Whataburger runs with his sister.  William was also a devoted fan of the Dallas Mavericks, and he was a walking encyclopedia of NBA knowledge.
William is preceded in death by his Grandparents Donald and Martha McCrady, his Great-Grandparents A.E. and Doris McKenzie, R.R. and Phyllis Allen, Donald and Betty McCrady, and Roy and Veronica Grimmer.
He is survived by his parents Tom and Adrienne McCrady; his sister Emma; his Grandparents Jerry and Thelma McKenzie and many loving uncles, aunts and cousins.
William's kindness will now create a lasting legacy for others that will positively impact their lives forever.  Thank you for helping us honor William through the establishment of the William McCrady Memorial Endowment.