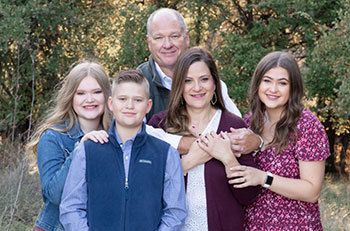 The Tom Shearer Memorial Scholarship is given to graduating seniors who have lost a parent. The scholarship was established in memory of Tom Shearer who lost his father when he was just fifteen, and then suddenly passed away while his own children were teenagers.
Tom was a devoted husband and father, who loved taking his family on adventures. He made every day fun and was always looking out for the needs, big or small, of everyone around him. His heart was as big as his beloved state, and he was even known to his young nieces and nephews as "Uncle Tex."
The Boy Scouts of America were a vital part of Tom's life from an early age and played a very formative role as he navigated the loss of his father as a teenager. During that difficult time, his community and his fellow scouts and scout leaders rallied around him. He eventually rose to the rank of Eagle Scout. It was with great honor and devotion that Tom later served as a Cubmaster and Assistant Scoutmaster for troops in the Lewisville ISD area.
Tom was the first in his family to graduate from college and deeply valued education. His wife, Anna, taught at Liberty Elementary; and all three of his children attended Wellington Elementary, McKamy and Forestwood middle schools, and Flower Mound High School.
The Shearer family is so grateful for Tom's amazing legacy and looks forward to being able to help a young person who has endured a tragic loss to reach their educational goals. Make your gift to honor Tom's memory and help establish a scholarship for students with the button below.