Thierry Bueno Memorial Scholarship
Thierry Noel Bueno of The Colony, Texas was born December 18th, 2001. He passed away on October 30th, 2022.  He was 20 years of age. Thierry was born in San Antonio, Texas to his mother, Rose Bueno, and his father, Vince Bueno. Thierry's immediate family also consists of his older brother of six years, Sterling Bueno, his younger brother by 9 years, Kavani Bueno, and his baby sister by 12 years, Kaori Bueno.
Thierry was a well-traveled young man as his family moved him around from place to place growing up. He spent his early toddler years in Wimberley, Texas. He lived with his parents, his older brother, and his grandmother, Jeanette Bueno, and his grandfather Danny Bueno. He spent those days swimming in the Blanco River and driving around the house in wash baskets.
In 2004, Thierry and his family moved to El Paso, Texas where his father began his service in the US Army. He began his school age years and was an excellent student and a social butterfly. Somehow, he still managed to make it back to the water in the middle of the desert by using a garden hose to fill up a small section of the backyard, with the help of his brother of course.
In 2007, Thierry moved to Okinawa, Japan with his family and lived in a two-story house on Kadena Airforce Base. There he discovered his undying love for the ocean, the Japanese culture, and the sport of soccer.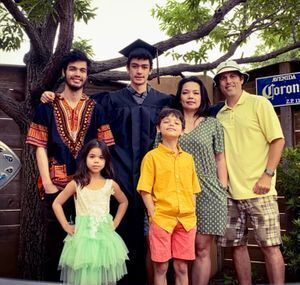 In 2009, Thierry and his family moved to The Colony, Texas where he spent his teenage and young adult years. Thierry thrived in soccer playing for multiple select teams such as the Sidekicks, Liverpool, FC Meja, FC Dallas, and The Colony High School Varsity team. He sprouted to be the tallest in his family towering at 6'2, 6'3 if you count his curly hair.
In 2020, Thierry began to show his leadership qualities as he graduated from The Colony High School on the A-Honor Roll, served on the student counsel, and was awarded the most spirited athlete. He then enrolled into Collin College with UT-Dallas being his college of choice to graduate from. He started his first job at Floor & Décor where he received 4 promotions in less than 2 years.
Thierry (T-Bird or Birdy) Bueno loved spending time with friends, family, his girlfriend Isabelle Segura, and his dog Zorro. He loved happy music, playing video games with his friends, soccer, Naruto, Pokemon, and yes, anything involving water. His loving memory will forever be engraved in our hearts.
Please join us in creating a lasting legacy for Thierry. Make your gift to help establish the Thierry Bueno Memorial Scholarship.