Shaila Hackler Memorial Scholarship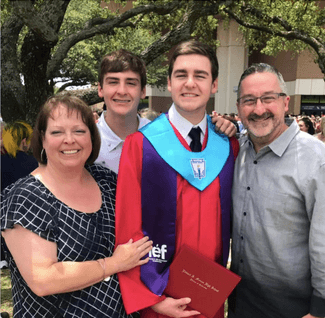 Shaila Sams Hackler was unexpectedly called home to Heaven on October 15, 2022, leaving behind a legacy of love for her family, her friends, her former coworkers, and her former students. She lived life to the fullest and will truly be missed by all who had the privilege of knowing her.
Shaila was as selfless as they come and a true one-of-a-kind soul. She was an absolute legend as a wife to her dear husband Tracy, mom to her amazing sons Clayton & Alston, teacher, sister, daughter, and friend to so very many. While she served the students of Highland Village, her true passion in life was being a mom. It was a job she not only took seriously but excelled at. She took great care to prepare her boys with a faith-filled life. Making sure her boys knew God and had a relationship with Him was a top priority. She prepared them for everything in life, even how to carry on without her.
Shaila was sassy with a quick wit. She had a wry sense of humor and impeccable timing. She loved big. She loved loud. And, she enjoyed the occasional margarita, Mexican food, and "cheesy goodness." When she had downtime, she could be found in her PJs most likely watching Criminal Minds, Little House on the Prairie, Gilmore Girls or The Voice.  She adored funny Facebook memes, sappy viral videos, country music, the color purple and the Denver Broncos.
Shaila was a devoted friend. She was a get-up-in-the-middle-of-the-night, "I'll be right there", "How can I help?", "Come hang-out!" type of friend. She was always going above and beyond for her people. Even when her pain kept her at home, she stayed in contact with her friends, always checking in on them making sure they were okay. Though the final years of Shaila's life were marked by medical issues and pain, her faith never wavered. One of her favorite sayings was, "God's timing, not mine."
Shaila always believed that you should carefully pick a career because your career is your calling. She felt called to be a teacher, not just a deliverer of state-mandated curriculum but a teacher of life, teaching students about character, integrity, honesty, love, and self-worth. She learned just as much from her students as they learned from her. She loved those sweet moments when students truly came into their own, making the tears, sleepless nights, lesson plans, and grading so incredibly worth it all.
Shaila taught for 18 years, all but one being at Highland Village Elementary. She was named the 2021-2022 Teacher of the Year for the HVE campus and loved the blessings that came from her school community.
Please join us in creating a lasting legacy for Shaila Hackler. Your donation will help remember a teacher who loved making a difference. Make your gift to honor Shaila Hackler by helping establish a memorial LEF Senior Scholarship for a former Highland Village Elementary student using the button below.