Jose Dominguez Memorial Scholarship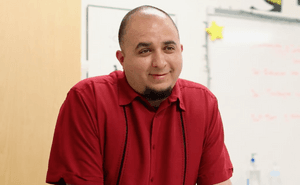 LHS Harmon Spanish Teacher, Jose A. Dominguez Jr., was a proud El Paso native born on April 6, 1985. Anyone that spoke with him enjoyed his stories from growing up on a border town and the impact that had on his professional career. He received his Bachelor of Arts in Spanish and his Masters in Peninsular Spanish Literature from the University of New Mexico, both degrees with high honors. This background provided Jose with an impeccable understanding of Spanish culture and literature that he shared with students in the classroom. Jose taught Spanish at Creek Valley for several years before transitioning to high school where he worked at LHS Harmon from 2015 to present, connecting with students who took Spanish at the beginner level all the way to Advanced Placement Spanish IV, where students receive college credit with an accepted score on their exam.
Mr. Dominguez excelled at supporting college bound students in his Spanish classes and had a high percentage of students successful at gaining college credit from his class. His passion for students was evident in the personal relationships he forged and part of the reason Mr. Dominguez was awarded by his peers as the LHS Harmon Teacher of the Year in 2018. Not only was he recognized by his campus for his dedication to education, but he was then named a LISD's finalist for Secondary Teacher of the Year that same year. The video for this accomplishment can be found here.
Mr. Dominguez will forever be remembered as a true supporter of his students, and a tremendous colleague and friend. He desired for all students to have a better life for themselves than their parents and even himself, and would donate to any cause or give the shoes off his feet to someone in need. The students lucky enough to be in Mr. Dominguez's class knew he had their back and would do anything to make them feel comfortable and safe enough to learn. Undoubtedly, Mr. Dominguez set the example for all teachers when it came to advocating for students' needs and being a strong force behind his colleagues for efficient change. Mr. Dominguez was an incredible strength to our Harmon family and will be greatly missed by a large student, staff, and community that misses him dearly.
Thank you for helping us remember an inspiring teacher, wonderful friend, and community leader who made a lasting difference. Make your gift to honor Jose Dominguez and help establish a scholarship for students with the form below.