Volley For Jenna Volleyball Tournament
Thank you for supporting the 9th Annual Volley for Jenna Volleyball Tournament! This year, the event will take place at Lewisville High School on October 21, 2023. 
Your donation supports the LEF Jenna Sigety Scholarship set to be awarded April 16, 2024 at the LEF Scholarship Awards Ceremony. Just click the donation form below to make your donation and receive an automatic receipt by email.
About Jenna
"Everyone loved Jenna, she had such an impact on those around her," said Ellen Sigety, Jenna's mother.
Faith was an anchor in Jenna's life, serving on youth committees for the Church of Jesus Christ, leading youth groups, and attending early-morning seminary scripture classes.
She was the youngest of five children, including her twin sister, Tessa, who named her oldest daughter Jenna, a third grader, in her sister's honor.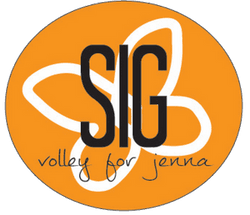 About Volley For Jenna Volleyball Tournament
Every October, volleyball players of all ages and abilities come together for a good cause: to raise scholarship money in Jenna's name through LEF.
"She loved the game so much that she never wanted to stop playing. We wanted to focus on that legacy and how much she loved volleyball, loved the camaraderie, and how it brought her teammates together," said John Sigety, Jenna's father. "This tournament is a continuation of her spirit in bringing the community together and remembering what Jenna stood for, her character, and love of people."
The event is typically hosted every homecoming weekend by the Lewisville Student Council, of which Jenna was a part of, including the Rowdy Crowd, National Honor Society, Fellowship of Christian Athletes, and both the soccer and volleyball teams.
About the LEF Jenna Sigety Scholarship
The year Jenna passed away, one scholarship was started by Jenna's third grade Valley Ridge Elementary teacher and continues today. However, Jenna's oldest sister Hayley, was determined to do more. That was when she formulated the idea of creating a scholarship fund through Jenna's love of volleyball.
As the tournament grew, so did the LEF scholarships. In year's past, scholarships were given to one or two LHS seniors, however last year the foundation was able to provide every senior volleyball player with a $500 scholarship. They hope to continue that tradition this year. To date, they have given out 50 scholarships.
For more, check the Cross Timbers Gazzete.

---
Jenna Sigety Memorial Volleyball Scholarship Recipients
| Year | Recipient | Award |
| --- | --- | --- |
| 2015 | Staci Rende | $500 |
| 2016 | Megan Fritz | $500 |
| 2016 | Nnenna Ijoma | $500 |
| 2017 | Arianna Alvarez | $500 |
| 2017 | Sui Caan | $500 |
| 2017 | Angela Hartsburg | $500 |
| 2018 | Rachel Barnett | $500 |
| 2018 | Darilynn Robalino | $500 |
| 2018 | Madison Wood | $500 |
| 2019 | Christina Cowsert | $500 |
| 2019 | Brooke White | $500 |
| 2019 | Isis Williams | $500 |
| 2020 | Emerson Coburn | $500 |
| 2020 | Micaela Godinez | $500 |
| 2020 | Bruna Leao | $500 |
| 2020 | Dawt Mawi | $500 |
| 2020 | Audrey Rodriguez | $500 |
| 2021 | Gabriella Thompson | $500 |
| 2022 | Mataiya Barber-Perry | $500 |
| 2022 | Lorraine Cosme Diaz | $500 |
| 2022 | Kamayah Davis | $500 |
| 2022 | Kyra Franklin | $500 |
| 2022 | Najah Mabry | $500 |
| 2022 | Haylee Rachal | $500 |
| 2022 | Rylie Tierney | $500 |
| 2023 | Mya Black | $500 |
26 Total Awarded Scholarships for $13,000
---
Valley Ridge Elementary Jenna Sigety Memorial Scholarship Recipients
| Year | Recipient | Award |
| --- | --- | --- |
| 2009 | Carla Briana Shelton | $700 |
| 2010 | Erin Leah Jones | $500 |
| 2010 | Lindsey Boren | $500 |
| 2010 | Megan Cronin | $500 |
| 2011 | Chelsi Hobbs | $500 |
| 2011 | Daniel Mayes | $500 |
| 2011 | Mason Hale | $500 |
| 2011 | Melissa Snellgrove | $500 |
| 2012 | Breahan McCrady | $500 |
| 2012 | Shauna Lubash | $500 |
| 2013 | Payton Odom | $500 |
| 2013 | Yash Chevli | $500 |
| 2014 | Amanda Finney | $500 |
| 2015 | Kori Williams | $500 |
| 2015 | Monica Gutierrez | $500 |
| 2016 | Kristen Blasko | $500 |
| 2016 | Mitchell Brooks | $500 |
| 2017 | Hayley Gross | $500 |
| 2018 | Kevin Loza | $500 |
| 2019 | Nicholas Luthe | $500 |
| 2020 | Kathryn Foster | $500 |
| 2021 | Helena Maye Darbey | $500 |
| 2022 | Andrew Gloria | $500 |
| 2023 | Isabella Simpson | $500 |
24 Total Awarded Scholarships for $12,200
50 Total Awarded Scholarships in Jenna's Memory for $25,200