LEF's Changing Children's Lives Award Program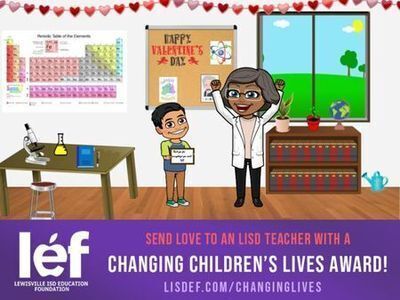 The Lewisville ISD Education Foundation has created an award to recognize and appreciate those exceptional educators whose work changes children's lives.
Honor an LISD educator by making a donation in their name to support student and teacher programs. LEF will send a certificate (via the campus principal) to your honoree sharing your words of appreciation and acknowledging your donation in their name. See a sample certificate here.
Changing Children's Lives Award contributions are tax-deductible and directly support LEF programs that benefit LISD teachers, students, classrooms, and schools.
To submit your award online, please fill out the form below or click here to print the Changing Children's Lives form and mail it to us with your donation.
 If you are submitting multiple awards, please submit a separate form for each. Awards take 1-3 days to process and send out to honoree.
---